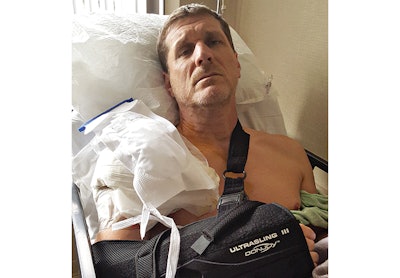 I graduated from the Jackson (MS) Police Academy in 1995. The training was 12 weeks of hell during which our instructors did their best to prepare us to work some of the most dangerous streets in the country.
While on patrol in the summer of 1996, I received a call from dispatch that an unarmed man had been shoplifting at a grocery store. The security guard attempted to apprehend the suspect but was unsuccessful. As the security guard placed handcuffs on one of the suspect's wrists, the suspect assaulted the guard and fled on foot. I sped to the scene, blue lights flashing and siren wailing.
Upon arrival, I met an out of breath security guard, bleeding from his nose. He told me he had tried to detain a large African-American man and had been attacked. He added that the suspect was no longer wearing a shirt and had handcuffs on one of his wrists.
The suspect had fled toward North State Street. So I began a search and spoke to people in the area. A pedestrian advised me the suspect had run into the Mississippi Baptist Fitness Center. I parked in the basement of the Fitness Center, notified dispatch I was proceeding into the building, and ran inside. Units were responding to assist.
The Fitness Center
As I entered the building, I passed two of the Center's uniformed security guards calmly exiting the building. I asked about the suspect, and they told me they last observed him getting off of the elevator on the third floor. Although a bit surprised by this, I notified dispatch and I headed to the third floor.
The smart thing to do would have been to wait on my backup. But I was a rookie.
It was after 5 p.m. Most of the employees were gone for the day or they were leaving as I headed upstairs.
Entering the third floor, I noticed that some of the offices were open and some were closed. I made an announcement and began kicking in doors, searching for my suspect. One of those doors I kicked in bounced off of my suspect, Cleveland Clark.
The Third Floor
Clark was sweating profusely. He was much larger than me, standing 6 feet 2 inches and weighing approximately 260 pounds. As I had been advised, he had handcuffs on one wrist.
I ordered Clark to the ground with my weapon drawn. Clark initially complied. But as I holstered my duty pistol and attempted to handcuff him, Clark jumped up, throwing me backward into the wall. He ran and I gave chase, notifying dispatch of the situation.
Clark had no weapon, other than the dangling handcuffs on his wrist. I ran full speed and tackled him. Clark was not fazed.
He grabbed me by the body armor under my shirt, picked me up off the ground, and threw me into the wall. Then he started to walk away.
I drew my pepper spray canister and gave him a dose. The pepper spray had no effect other than filling the air with the substance, which also blanketed me, making it even harder for me to fight.
Clark began to assault me. Although I was no Bruce Lee, I answered Clark's attack with a series of punches and kicks.
We traded blows for several seconds. Then Clark and I went to the ground. The suspect overpowered me, began to choke me, wrapping his arm around my neck, and slamming my head into the concrete floor multiple times. He then attempted to obtain my weapon. We fought for my gun for several minutes. I was able to fight back initially, even throwing in some head butts, but after several blows to my head, things began to get hazy.
What happened next is burned into my brain forever. A small crowd of the few remaining employees began to gather around. I called for help but no one took action.
Gun Grab
Clark continued working to take away my handgun. My handgun was secured in a retention holster. In order to deploy the gun from that holster, the gun had to be pushed down and rocked forward before being released. So in the academy, I had been taught to press down on my duty weapon during a gun grab attack to prevent a suspect from removing it.
So as I was being choked out and my head was being slammed into the concrete floor with the small crowd watching, I pressed down as hard as I could on my firearm. Due to the position I was in, I had to press downward on the holster with my elbow. With the hand on that same arm, I was able to reach for my radio's shoulder microphone. In this position, I could not only hear the radio traffic, but I was able to activate my emergency button. As I yelled to dispatch that I was going out and Clark was attempting to gain control of my weapon, I could hear sirens and my fellow officers, including my academy classmate and best friend Robert Whiteside, screaming over the radio. Robert was frantically trying to learn my exact location.
Robert yelled, "Where is he, headquarters?"
The dispatcher advised, "I think he's in the basement."
I yelled into the mic that I was on the third floor.
As I began to lose consciousness, I could hear dispatch yelling over the radio, "All units, all units….proceed to Officer Brooks' location immediately… Officer down!"
Backup On Scene
I could only see the feet of those looking on. I was giving up and I thought it was over.
As I looked at the feet of the crowd, I suddenly saw black police boots running toward me. The first backup officer to arrive began yelling at Clark and attempting to physically get him to release me. Initially, Clark ignored the officer and continued choking me while trying to obtain my weapon. Eventually, Clark released me and began fighting the other officer. As I gained my senses, I realized the backup officer was my friend Jack Usry. Jack then began receiving an onslaught of blows from Clark. Within seconds, Jack was fighting for his life.
But Clark was now facing two officers. And that was more than he could handle. Jack and I were able to subdue him and we took him into custody.
The crowd quickly dispersed as Jack and I escorted Clark downstairs. Jack led the way, as I had been blinded by the pepper spray. My friend Robert met me on the way down and helped wash the pepper spray out of my eyes. My sergeant ordered me to the Baptist Hospital's ER to assess my injuries.
Damages
Hospital personnel advised me that I had a concussion and possibly a torn shoulder. I was placed in a sling.
Still, a massive report had to be completed. Once all the paperwork was completed, I went home and tried to sleep, which was impossible. I lay in bed, into the early morning hours, thinking about what had occurred. I recall thinking that I almost didn't make it home.
Within a few days, Clark was released from jail. I still do not know how he got out so quickly after literally trying to kill a police officer. His blood tested positive for PCP and cocaine prior to his release.
I took no time off and quickly returned to work to fight another day with my fellow Jackson PD officer, and we fought together often. I was asked by many, including my sergeant, why I didn't shoot the suspect when it was clear his intention was to kill me. I said it then and I will say it now; I just didn't feel as though I, an armed Caucasian police officer in Mississippi, could shoot an unarmed African-American man. I simply didn't want to face the consequences.
Nonetheless there were consequences that I couldn't have imagined at the time.
Cleveland Clark killed a young woman in Georgia.
Sparkle Rai
You can read the reports online from a variety of publications. Cleveland Clark killed a 22-year-old woman in Union Springs, GA, named Sparkle Rai in 2000. And it's a very sordid story.
Clark was hired by Rai's father-in-law, Chiman Rai, to kill the young mother. Chiman Rai, 68, a native of India, didn't want his son Rajeeve "Ricky" Rai to be married to an African-American. The elder Rai was convicted of conspiring to kill his son's wife and was sentenced to life without parole. Sparkle had only been married for a month when she was stabbed and strangled by Clark in front of her crying 6-month-old daughter. Rai paid $10,000 to have Sparkle killed.
Sparkle's murder had gone unsolved for six years until witnesses came forward identifying Clark as the killer.
And here's where Cleveland Clark comes back into my life. In 2009, cold case detectives from Georgia contacted me. By this time, I had left the police department and was working as an investigator for a law firm. Clark had been found guilty for the murder and detectives were preparing for the sentencing portion of his trial. They reviewed my report and wanted me to testify as to what occurred when I attempted to arrest Clark in 1996. Detectives flew me to Atlanta where I testified at the sentencing.
In that courtroom I sat amazed as other police officers testified about their encounters with Clark. Resisting arrest and assaulting police officers was a way of life for Cleveland Clark. One officer was held hostage by Clark. During that standoff, Clark broke this officer's hand with the officer's own weapon before being captured.
The prosecutors got what they wanted from our testimony. Clark was sentenced to death on July 2, 2009. He remains on death row in Georgia.
Echoes of Pain
For the next few years after my appearance in that court I felt a great deal of guilt over Clark being released from Jackson. Had he not been able to get away from us, Sparkle Rai might still be alive. And all my fellow officers who suffered injuries at his hands would have never been hurt.
I'm also reminded daily of my encounter with Cleveland Clark because of the physical pain I still feel. Over the years, my shoulder has continued to bother me. I have endured countless cortisone shots, which worked for a time. But in January of this year, with the shots no longer having an effect and the pain becoming unbearable, I finally agreed to an MRI. The exam revealed multiple tears, bone spurs, and severe arthritis. So as you read this I will be recovering from surgery. In a strange twist, the surgery is scheduled to take place in the same building that used to house the Baptist Fitness Center where Cleveland Clark attacked me.
So as I prepare for my surgery 20 years after I was slammed to the ground over and over by Cleveland Clark, my thoughts and gratitude go to my brothers Robert Whiteside and Jack Usry. My thoughts and prayers also go to my fallen law enforcement brothers and sisters and to the family of Sparkle Rai. May my fallen colleagues and Ms. Rai rest in peace.
Richard A. Brooks is the owner and lead Investigator of Richard Brooks Investigations, LLC (www.JacksonPI.com) in the Jackson, MS metro area. He is the Immediate Past President of the Mississippi Professional Investigators Association and the Mississippi Chapter Director of the Association of Christian Investigators.