The New Orleans Police Department (NOPD) once found itself infected by a culture of discrimination, abuse, and lawlessness. But as the field of medicine has shown, when sickness pervades, there also exists a prescription for good health.
The NOPD found the antidote to a negative culture in being very public about its past failings and in working to address the problems. A key part of the 1,172-member department's transformation is its new Ethical Policing is Courageous (EPIC) program, which is designed to educate, empower, and support officers to prevent wrongful actions.
Though admitting one's failings is never easy, NOPD Chief Paul Noel says he believes police ethics is something agencies must address head on. He explains, "We need to equip our officers with all of the tools to be successful—not just a gun or a TASER or a body camera and a car. That means we need to give them the tools to protect their careers, protect their lives, and to intervene. If we are going to have an organization that has the trust and confidence of the community, the community must know that when there is misconduct or something like that, we're not going to cover it up, that other police officers are going to intervene and put a stop to it."
EPIC Growth
The idea for peer intervention took root in a 158-page report issued after a U.S. Department of Justice (DOJ) probe into NOPD ethics violations. After identifying several areas for improvement, the DOJ and the City of New Orleans entered a consent decree, which required the department to make sweeping changes in the way officers fulfilled their duties, and mandated that the NOPD revamp its recruitment, training, supervision, evaluation, and investigation practices.
Though the consent decree jump-started the change, Deputy Superintendent Danny Murphy of the NOPD Compliance Bureau stresses the department has moved far beyond its initial requirements. Murphy says the resulting program demonstrates the forward-thinking nature of the NOPD, which has "taken the words peer intervention [found in the decree] to mean an effort that helps our officers succeed and keep the community safe."
Noel explains, "EPIC is designed to get in front of negative actions. When misconduct happens, it's not just a single officer acting by himself/herself. There are generally other officers who are aware of what's going on. We also recognize that officers struggle with the stress of their jobs, and deal with depression, suicidal thoughts, and other problems, and we want to get in front of that."
The overarching goal of EPIC is to educate, empower, and support officers to help them play a meaningful role in "policing" one another, just as peer intervention programs have been used to reduce sexual assaults on campus or to curb bullying in schools. But Noel is quick to remind that EPIC is not a "tell on your partner" program, however. It is a peer intervention effort that teaches officers how to intervene should it look like an officer might be heading down a negative path. The program empowers officers—at any rank—to step into a situation and intervene.
The NOPD has put every officer through EPIC training since launching it, and Noel states they have seen a decrease in complaints. He notes the department also has more officers interacting with its employee assistance unit than it did before the program, which Noel says he sees as a plus. He explains, "It's always tough to get police officers to talk to a counselor. But now, we have more officers doing that."
Though Noel admits it is impossible to tie these stats directly to the EPIC program, he believes the program contributes to them—at least in part.
Murphy agrees: "I think the decrease in public complaints last year signals that the NOPD has become a more accountable, professional police department, and I believe EPIC is part of that. It helps us police ourselves and deliver better services to the community."
Partner with the Public
The success of the program is tied to the NOPD's partnership with the community while developing it, according to Noel.
As the NOPD worked to make a change, it reached out to its harshest critics, some of whom even had lawsuits levied against the department. They asked these individuals to partner with department leaders and officers to discuss how the agency could better police itself and improve its services in the community.
Community members were asked to weigh in on the kind of department they'd like to see and how to address some of the ethical problems the department had experienced. It is through this outreach that the peer intervention model took shape. The department then asked community members to help develop the program curriculum.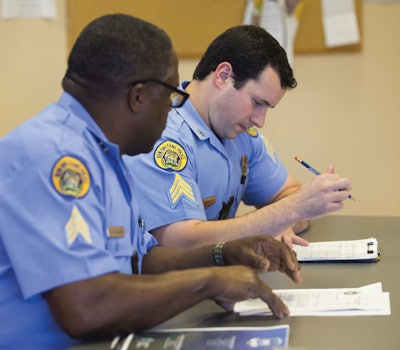 "The program is very much a collaborative grassroots effort," Murphy says. "We knew we could not impose a peer intervention program without hearing from voices throughout the community."
Chief Noel explains the program also had to be built from the ground up within the department, meaning it could not be a program created by leadership for rank-and-file officers to follow.
"We wanted officers to be involved. We didn't want a program where leadership said, 'Here's the program we developed, now take it.' We wanted this to bubble up from the officers. I think that's the main reason the program gained credibility so quickly among the rank and file; they actually had a hand in putting it together," he says.
Keep It Real
EPIC is founded on the principle that good police officers want to do the right thing, but that even officers with the best intentions sometimes lack the tools to intervene effectively, safely, and without repercussion when faced with potential police misconduct. The best way is to prevent officers from having to report a fellow officer is to prevent negative outcomes in the first place, which is what EPIC is designed to do.
To get the department to this point, the NOPD tapped into the work of Ervin Staub, a retired psychology professor at the University of Massachusetts. Staub studies the roots of violence between groups, especially mass killings, genocide, and terrorism. He has also studied reconciliation after violence and its prevention. He has applied his work in numerous real-world settings, including the creation of a training program for California police officers in the wake of the Rodney King incident in Los Angeles.
His work with passive bystandership aided the department in developing a peer intervention solution that revolves around five simple goals, according to Jonathan Aronie, monitoring team lead, New Orleans consent decree. These include:
Helping officers understand the career-saving benefits of intervention and the huge risks (including the growing legal risks) of not intervening;
Helping officers identify the signs that intervention is necessary;
Teaching officers how to intervene effectively and safely;
Teaching officers how and why to accept intervention respectfully; and
Protecting officers who intervene and those who accept intervention.
The NOPD teaches these skills via a curriculum that is a mix of peer intervention science, skills, and strategies. A large portion of this training includes role-playing situations that may require intervention and common barriers to stepping in.
The hands-on approach is key to the program's success, adds Noel. "It's really easy to tell someone if you see something wrong, say something," he explains. "But this gives them different tools and techniques that they can use to approach another employee. It even trains them how to intervene with a supervisor."
The training arms officers with tools and strategies designed to help them prevent overreactions or potential misconduct. Officers learn to employ tactics such as discreet passwords or codes that encourage a peer to calm down, stop what they're doing, or let them know that another officer is taking over. In non-emergency situations, EPIC teaches officers how to speak to co-workers privately about potential problems, or to ask another person to approach the officer.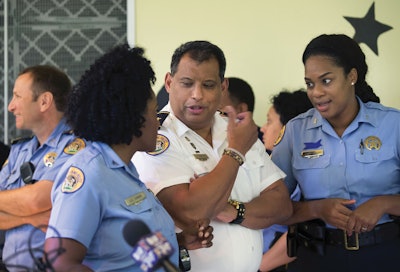 The scenarios used in training to help officers master these skills come from real-life, on-the-job situations. For example, a common scenario an officer might encounter in the field is being spit on. Maybe a prisoner is in handcuffs and the officer is searching him. While doing so, the suspect spits in the officer's face. EPIC trains officers to handle this negative circumstance in a positive way. For example, an officer's partner might step in and take over to keep the other officer from reacting poorly. In another scenario, a prisoner might strike an officer during a tussle to get their handcuffs on. Here too, the other officer could step in and take over. Officers are taught to say, "I got this. I'll take it from here," to deescalate the situation.
"We don't just make up scenarios, we actually use situations that caused problems for one of our officers in the past and talk about them," Noel says. "Now that we have body cameras, we even pull in video from actual incidents then get into a very lively debate about how to best intervene and respond."
The department also brings in the community to watch and even participate in the training, which has been an eye opener for some. "It really opens a citizen's eyes and gives them a different perspective. We've had community members say, 'Man, I wouldn't put up with that,' or 'I would hit someone who spit in my face.' It really opens their minds to the different things that officers face on the street."
The program also works with officers to police themselves by recognizing the signs of extreme stress and post traumatic stress, and then simplifying access to departmental counseling-type services. "Not only do they learn to recognize it in themselves but in other officers," says Noel. "So, they can encourage that officer to get some help from our employee assistance unit before it gets too bad. This is about prevention."
When officers complete the training, they are given an EPIC pin to wear on their lapel. Though they are not required to don the pin, most officers do. "The pin is a contract that says you give permission to other employees to intervene regardless of rank," says Noel. "The fact that most of our officers have decided to wear it shows that they are buying into the program and agree with it."
Agencies can learn more about EPIC at the New Orleans Police Department website, www.nopd.com.
Ronnie Garrett is a freelance writer based in Fort Atkinson, Wisconsin. She has been writing about law enforcement-related topics for 22 years.