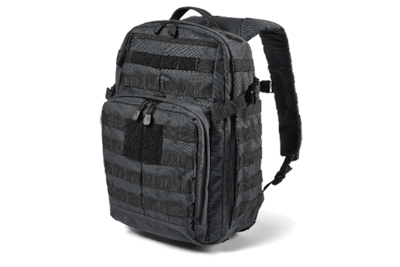 The original Rush line of backpacks was introduced by 5.11 in 2007. Late last year the company announced its revised 2.0 line, which includes the Rush12 2.0 (24 liters), Rush24 2.0 (37 liters), and Rush72 2.0 (55 liters).
I decided to evaluate the Rush12 2.0. The "12" in this backpack's product designation means that it is designed to carry enough gear, apparel, and supplies for a 12-hour mission or a day trip. If you're not carrying food, it can probably carry enough stuff for a day or so.
The Rush12 2.0 maintains some of the most popular features of the original Rush backpacks. These include a hydration pocket, MOLLE attachments in a lot of positions, a contoured shoulder strap, and more.
There are several new features on the 2.0 version.
A CCW compartment is located just behind the MOLLE panel. It is sealed with hook-and-loop material. So this is not the way to carry your pistol if you need to get to it discreetly. But it opens fast. Inside, there is plenty of room for a full-size pistol and even spare magazines. There's also room to allow the user to get a proper index grip on a pistol and draw it quickly.
A new zippered eyewear pocket is located in the top of the Rush12 2.0 backpack. It's fleece lined for the protection of the glasses and an excellent place to park sunglasses and reading glasses.
Another new feature on the Rush12 2.0 is the laptop pocket. It's inside the main body of the pack and it will fit a 15-inch laptop. My experience was that It was a bit of a struggle getting my 13-inch Macbook Air into this pocket, but it got easier as I worked the material a bit. This could have just been an issue with my pack. One improvement I would like to see is a longer strip of hook-and-loop material on the strap for closing the laptop pocket. This would make it easier to secure tablets and smaller laptops.
Overall, the Rush12 2.0 is an excellent backpack for a variety of applications. The new features, especially the CCW compartment, are welcome additions that make this version of the Rush more valuable for law enforcement officers.
5.11
Rush12 2.0 Backpack
• Construction: 1050-D nylon
• Capacity: 24 liters
• Dimensions:
Main Compartment—18 x 11 x 6.5 inches
Bottom Front Pocket—12 x 9 x 1.75 inches
1.5 Hydration Pocket—16.5 x 10 inches
Features: CCW compartment, padded laptop compartment, fleece-lined eyewear pocket, center line design, hydration pocket, contoured shoulder straps, and lots and lots of MOLLE.
Price: $99.99