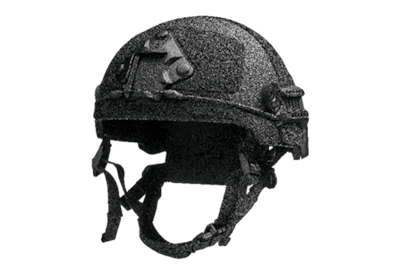 Very few patrol officers in the United States are issued ballistic helmets, that's not true in Europe. At least, it hasn't been true since terrorists launched multiple devastating attacks in Paris last decade.
Georg Scharpenack of Austrian helmet maker Ulbrichts GMBH says the 2015 Charlie Hebdo and Bataclan Theatre attacks led to a change in equipment for patrol officers at European police agencies. Before the 2015 massacres, ballistic helmet protection was mostly restricted to tactical officers. "Due to the speed with which these attacks were carried out, there was no time to get the tactical team on scene. It was the police on patrol who had to act immediately and without head protection. So more European police agencies have started to equip their patrol officers with ballistic head protection."
Ulbrichts Protection is one of the leading suppliers of ballistic helmets to European law enforcement, including one of the world's most elite tactical police units—Germany's GSG9. Now the company's products are coming to the United States through a partnership with Point Blank Enterprises.
Scharpenack says many law enforcement helmets are police versions of military helmets. They were primarily designed to protect the wearer from blast and shrapnel, not from direct bullet hits. He says Ulbricht's patrol helmets can protect from 9mm rounds from submachine guns and stop .44 Magnum rounds. With additional forehead shielding, they can protect from AR and AK rounds. The company's tactical helmet can stop a 7.62 x 39mm lead core bullet without forehead shielding.
Stopping the bullet from penetrating the helmet is not enough to ensure that the wearer survives the attack. The energy of the bullet striking the helmet can still cause serious trauma, especially from backface deformation—how far the material of the helmet pushes inward at impact. Scharpenack says Ulbrichts takes an unusual approach to minimize trauma from bullet impact. The company adds high-performance titanium alloy to its helmets.
Most ballistic helmets are made of aramid materials or ultra high molecular weight polyethylene. Ulbrichts' helmets are made of a combination of that same ultra high molecular weight polyethylene and titanium.
"We started to work with titanium about 30 years ago and have built up significant expertise in the production processes and have developed proprietary machinery needed for standardizing these processes," Scharpenack says. "In our helmets polyethylene and titanium are bound together by a combination of pressure, temperature, and adhesive substances in such a way that they physically behave nearly as one material."
Scharpenack says the combination of titanium and polyethylene provides excellent protection against both bullet penetration and backface deformation. "Composite materials are great but for the prevention of lethal brain trauma, you also want the additional protection of this high-value titanium on your head," he explains.
In addition to the protection that the Ulbrichts' helmets sold by Point Blank offer, they also incorporate a number of features designed to make them more comfortable for the wearer. The helmets have an external rotary knob for adjusting the fit and a special balance system for keeping the helmet centered on the wearer's head.
Scharpenack says the "bulletproof" rotary knob allows the wearer to adjust both the fit and the tightness. The result is better comfort during long-term wear. "It's not about one size fits all," he says. "It's about one size fits all even better."
The balance system enhances the wearers' comfort by ensuring their helmets are always centered on their heads. Scharpenack says when a helmet is not centered it can lead to neck pain, especially during long-term wear.
A wide variety of accessories and additional shielding can be fitted to Ulbrichts helmets.
Contact Point Blank for more information.