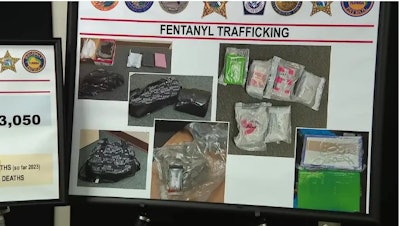 Enough fentanyl to kill five million people was recently seized during an undercover operation that led to the arrest of three men, two of whom were in the country illegally, according to Polk County, Florida, Sheriff Grady Judd.
According to Sheriff Judd, detectives went undercover and met with Ruperto Rocha, 55, in Bartow and he sold deputies one kilogram of methamphetamine mixed with fentanyl on September 14. Two days later, Juan Manuel Gutierrez Medina, sold the deputies another kilogram as Rocha sold them three more kilograms.
"Now, we've got four kilos of fentanyl and it is mixed with methamphetamine. It's stamped in the pills. It's mixed in the pills. This is really pure meth," Sheriff Judd said.
Over time, deputies say they figured out the drugs were coming from a Mexican cartel and then being moved from Compton, California, to Polk County, Fox 13 reports.
Deputies say they followed Gutierrez Medina to Compton where deputies say he went to buy more drugs. In the meantime, Sheriff Judd said deputies got a warrant for his arrest for a first-degree felony.
On October 18, Sheriff Judd says Gutierrez Medina was headed back to Polk County and was captured in Suwannee County after being stopped by the Florida Highway Patrol.
Sheriff Judd said Contreras Gutierrez, who Sheriff Judd says was also in the country illegally, sold undercover deputies six more kilograms on October 20 in Hillsborough County. Five days later, Polk deputies, the Hillsborough County Sheriff's Office and the Florida Department of Law Enforcement arrest him.
Juan Manuel Contreras Gutierrez was charged with trafficking fentanyl over 28 grams. PSCO says Contreras Gutierrez' criminal history includes possession of drugs without a prescription, first-degree robbery and grand theft (convicted, 5 years' probation), 2018, Los Angeles, California. PCSO says Contreras Gutierrez is in the United States illegally—he was ordered removed by an immigration judge on Nov. 19, 2020 and deported back to Mexico on Nov. 23, 2020. On Nov. 28, 2020, he was caught again trying to illegally enter the United States. He was again sent back to Mexico. Contreras Gutierrez re-entered the United States illegally at an unknown time after deportation.
Rocha has been charged with trafficking fentanyl over 28 grams. According to PCSO, his criminal history includes a criminal traffic charge in 1998 in Hardee County; transporting illegal immigrants, Del Rio, Texas, 1981 (convicted, 3-month sentence); home invasion, armed violence, aggravated battery, 1989, Belvidere, Illinois; and aggravated battery, Lockport Correctional, Illinois, 1990 (convicted 5-year sentence). Rocha has an unknown resident alien status.
Juan Manuel Gutierrez Medina has been charged with trafficking fentanyl over 28 grams. He has a prior arrest in California (Los Angeles) in 2002 for DUI. He is from Mexico and is in the United States illegally. The United States Immigration and Customs Enforcement has placed a hold on Gutierrez-Medina Sr.