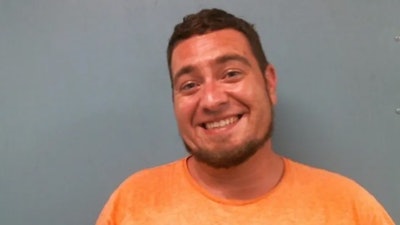 A Hogansville, GA, man has been sentenced to 35 years in prison for plotting to hire a hitman to murder the Troup County Sheriff's lieutenant investigating his drug charge.
After a week-long trial, 31-year-old Jonathan Taylor Lawrence was found guilty of conspiracy to commit malice murder, threatening a witness, and trafficking methamphetamine on Aug. 25, Fox 5 reports.
According to evidence provided at the trial, the charges stem from a traffic stop on April 24. During the stop, investigators found two ounces of methamphetamine in the car and arrested Lawrence.
During his time behind bars, officials say an inmate came forward to tell investigators that Lawrence had a "hit" against a Troup County drug investigator who testified at his bond hearing.
With the help of deputies, the inmate was able to record Lawrence describing different tactics that could be used to kill the drug investigator.
Two days after the recording was made, the inmate and Lawrence called an undercover deputy posing as a hitman. During this call, Lawrence gave contact information for an associate he said would provide the down payment for the hit.
Wednesday, a Coweta County Superior Court Judge sentenced Lawrence to 35 years in prison.