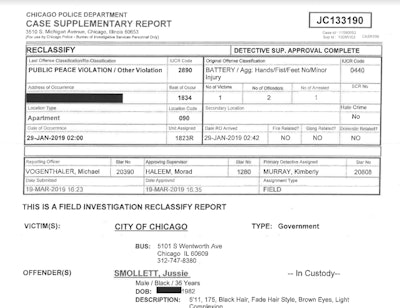 Chicago police on Wednesday released the investigative file involving the alleged hate crime hoax by "Empire" star Jussie Smollett.
The release of the documents comes a day after Cook County prosecutors abruptly dropped a 16-count indictment against Smollett, saying they'd cut a deal with the actor to perform two days of community service and forfeit his $10,000 bond to the city of Chicago.
The unusual move allowed Smollett's attorneys to get his criminal case immediately sealed, caught Chicago police brass by surprise and brought swift condemnation from Mayor Rahm Emanuel, who called it a "whitewash of justice."
The 61-page police file — which was redacted to remove witness names and other personal information — lays out in detail the investigative steps taken by a team of detectives to unravel what happened to Smollett on the frigid January night in Streeterville when he claimed he was the victim of a racist and homophobic attack, the Chicago Tribune reports.
Chicago-based news website CWBChicago says it acquired the files via the Freedom of Information Act.
They can be viewed at CWBChicago's site.