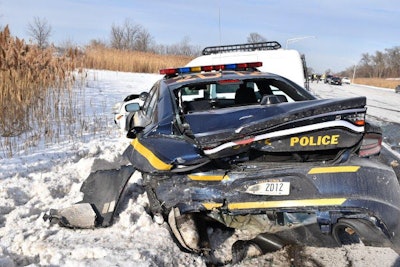 A state trooper was injured Wednesday morning while investigating a crash on the Onondaga Lake Parkway, according to the New York State Police.
The trooper's patrol car appears to have been rear-ended on the parkway, according to photos the state police shared in a tweet.
"This is why you move over," the state police tweeted.
According to Syracuse.com, police said the trooper suffered minor injuries.
This is why you move over.
Our Trooper suffered minor injuries Wednesday morning when investigating an accident on State Route 370 in Salina. No injury to other driver. Press release to follow. pic.twitter.com/FjFGklwjGO

— NewYorkStatePolice (@nyspolice) January 22, 2020