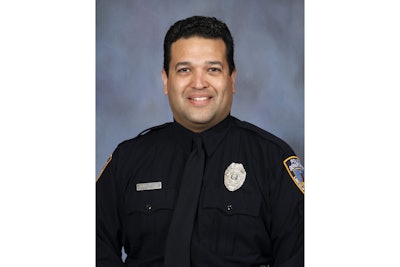 A Lincoln, NE, police investigator who was shot and critically wounded August 26 while serving a warrant died early Monday morning in a local hospital.
Investigator Luis "Mario" Herrera died at 3:30 a.m. surrounded by his wife and children, the family reported.
The department issued the following statement: "The Lincoln Police Department is devastated by the loss of one of our most outstanding police officers. Mario was an exceptional investigator, a selfless teammate, and a tireless public servant. Empathetic, kind, and utterly committed to serving victims and protecting his community, Mario was an exemplary human being who just happened to be a Lincoln police officer."
Court paperwork has provided additional details about what led up to the shooting of Officer Herrera, 1011Now reports.
According to arresting documents, authorities were inside a home talking with Felipe Vazquez, trying to negotiate the man's surrender. Vazquez was wanted in connection to a murder.
The document said he was behind a locked door and negotiations lasted about 25 minutes. That's when Vazquez and another man, Orion Ross, broke out a back window. Moments later, investigators believe Vazquez fired three shots, hitting Herrera in the torso.
Vazquez and Ross are both still in the Lancaster County Jail. They've been charged with felony escape. The Lancaster County Attorney will determine additional charges based on the investigation.