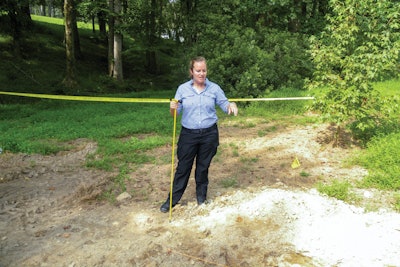 Last month on a sweltering North Carolina afternoon, several dozen mystery and crime fiction authors gathered in the lobby of Sirchie's corporate headquarters and waited for a bus to take them to a nearby Raleigh hotel for more forensic training. They had come to the company's Youngsville, NC, campus for a morning of Writers' Police Academy classes.
While they waited for the bus, the writers peppered a Sirchie representative with questions about the classes the company offers for law enforcement and about forensics in general. The rep chuckled at some of them. "You know it's very different having you guys here. The cops who usually come here for our classes want to know how to catch the criminal. You want to know how they can get away with the crime."
MurderCon
Actually, according to Writers' Police Academy (www.writerspoliceacademy.com) founder and former detective Lee Lofland, the writers who attend the event known colloquially as "MurderCon" want to know as much as they can learn about police work and forensics.
And not all of the writers attending this year's four-day conference were people just starting out in their publishing careers. One of the most notable attendees was Charlaine Harris, author of the books that inspired the TV series "True Blood" and "Midnight, Texas." Harris has the kind of resume that would allow her to contact just about any law enforcement agency in the United States and get a response to her questions, but she prefers coming to MurderCon to learn the details that can give her law enforcement scenes credibility. "I would be embarrassed to interrupt real officers while they are working," she says.
Lofland and his Writers' Police Academy team have been producing the event for 11 years, moving from Ohio, to Wisconsin, to North Carolina, and to a variety of venues. Some years it has been held at actual police academies. Along the way writers attending MurderCon have had the opportunity to get hands-on experience in a wide variety of police procedures and techniques, including firearms training, use-of-force simulator training, force-on-force tactical scenarios, bomb squad procedures, and even how to perform the PIT maneuver. Classes have also trained the authors in police procedures and culture.
This year by request of the attendees, MurderCon focused on crime scene investigation techniques, procedures, and technology. Lofland says he has been working with Sirchie (www.sirchie.com) for eight years and the company, one of the global leaders in production of investigative and forensic products and a provider of instruction for law enforcement, was a natural fit.
The four-day MurderCon 2019 included classes in arson investigations, firearms capabilities and ballistics, the role of coroners and medical examiners in murder cases, latent fingerprint recovery and evaluation, sexual assault evidence processing, footprint and shoeprint analysis, cop killer statistics and motivations, blood spatter science, and buried body recovery.
Smell of Cordite
Lofland says he started the Writers' Police Academy after his retirement from law enforcement. "I had read so many books that were so wrong about police work, and I wanted to fix that," he says. Lofland gets particularly annoyed when crime fiction includes scenes where detectives can still smell cordite—the ballistic propellant that hasn't been used since World War II—from gunfire at a crime scene. The cordite scene is one of his pet peeves; so are things such as brass casings found at the scene of a murder where the shooter used a revolver, or totally out of character depictions of how the police and FBI function. "They get that stuff from the movies and TV," he says.
He still sees such mistakes in crime fiction, but Lofland believes that his program is having impact. "We've had thousands of authors attend this thing. So I see a lot of our flavor in books these days," he says. In addition to his work with the Writers' Police Academy, Lofland has also written a book to help writers with their police scenes, "Police Procedure & Investigations: A Guide for Writers," and he writes a blog titled "The Graveyard Shift" (www.leelofland.com/the-graveyard-shift-blog/) to help writers with police scenes.
Despite all this effort to help writers make the police stuff more accurate, Lofland sometimes sees the same errors occur in books and it makes his teeth gnash. Sometimes he even sees it from authors he knows have attended MurderCon. "I've talked to them and asked them, 'That's not what we taught you. Why did you do that?'" Lofland says the answer is always the same: "My editor made me do it." He says he's tried to get editors from the major mystery and crime fiction publishing houses to attend the program. But so far he hasn't had any takers.
Lofland says he even had people doubt the accuracy of his police procedure book based on what they saw on TV. They'd say to him, "That's not what they did on 'Law & Order' last night." Lofland told them, "'Law & Order' is not real."
But most of the writers who attend the Writers' Police Academy are pretty dedicated to getting their police scenes as accurate as possible, Lofland says. So much so that he's been surprised by how hands-on they want to be. "They spend all their time in their offices behind a computer. So they are not really used to live action. But once they do it, they love it," he says.
Lofland says he makes sure that any scenario the authors participate in is as accurate to real police training as possible. For example, if they are conducting a search of a building for an armed suspect, they have to take all the steps real officers would do in that situation. "They arrest, handcuff, and bring the person out," he says.
Changing Minds
Some of the writers who attend the program come in with preconceived notions about officers and some of them are negative. "They tell me, 'I just didn't know what officers go through,'" Lofland says. He tells about a writer who thought officers were "trigger happy" for firing 15 rounds at suspects. Then after going through a use-of-force scenario that ended in a shooting, the author was shocked to discover that she had fired five rounds. She thought she had only fired two.
Lofland says sometimes the instructors get as much from MurderCon as the attendees. "It changes the officers and the way they think," he says. "Writers are an unusual group of people and they think differently from cops. They are always thinking of how to kill somebody in odd ways. Sometimes that makes the investigators think differently about their cases. I've heard one of them say, 'I never thought of that. If I had maybe I would have solved that case.'"
Sometimes the writers think too differently. Lofland and the other instructors have received some bizarre questions over the years. Some of which he won't answer and some he won't even divulge. "When somebody asks you, 'How can I kill my husband and get away with it?' you want to be careful on how you answer it," he explains.
Lofland sometimes worries about giving away too many secrets. But he quickly adds that he and the other instructors "don't tell them everything." And "It's on the internet." In addition, sometimes when it comes to forensic technology, "the attendees know as much as we do." Several of the attendees have even been to the FBI Academy, according to Lofland.
One former attendee who came to the Writers' Police Academy, an avid crime fiction fan, actually decided to pursue a career in forensics. "She's now a supervisor for a crime scene unit," Lofland says.
David Griffith is editor of POLICE Magazine/PoliceMag.com.