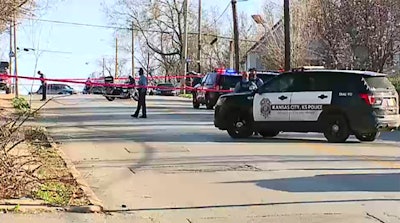 Three Kansas City, KS, undercover police officers were shot on Wednesday afternoon during a gun battle with suspected fentanyl dealers, according to officials.
All three officers suffered serious but non-life-threatening injuries. Three or four suspects were also wounded and are in stable condition, Kansas City Kansas Police Chief Karl Oakman said.
An undercover team of officers had purchased fentanyl from the suspects a few days ago and were trying to make another purchase on Wednesday around 3:00 p.m., Fox News reports.
"We responded today to try to buy additional fentanyl pills, at which time the deal didn't go through," Oakman told reporters in a briefing. "At that point, we were going to execute an arrest. During the execution of the arrest, individuals in the car got into a gun battle with the police officers."