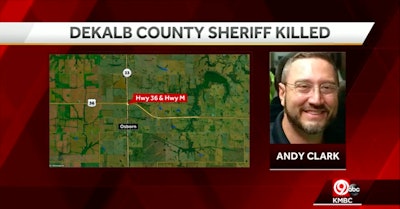 A Missouri sheriff was killed Wednesday night in a crash while responding to help a deputy.
Sheriff Andy Clark was hit by an SUV about 11:30 p.m. Clark, 43, was pronounced dead at the scene.
Missouri State Police told KMBC that Clark's vehicle had its emergency lights on when it was hit by the SUV.
Four people in the SUV were taken to a hospital, and the extent of their injuries is not known.
The cause of the accident has not been determined Fox reports.