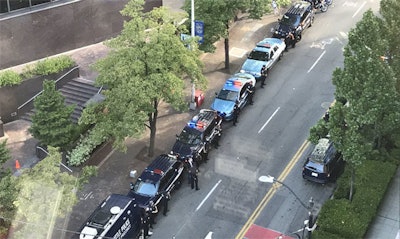 Wednesday was the final day of Seattle Police Chief Carmen Best's tenure with the department, after announcing her retirement in early August.
Both sworn and civilian SPD employees lined Fifth Avenue on Wednesday morning near the department's downtown headquarters to honor the departing chief, MyNorthwest reports.
Best announced her retirement shortly after a city council vote to cut a portion of SPD's remaining 2020 budget on August 10. She had been an outspoken critic of the council's plans to cut SPD's budget, citing concerns over public safety in a scenario where the department is forced to lose personnel.
She had served as SPD's police chief since 2018, and has been with the department for 28 years, moving through the ranks as an officer, sergeant, lieutenant, captain, and deputy chief.