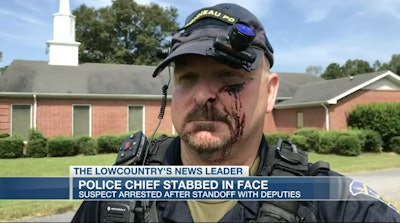 The police chief of a small South Carolina town was stabbed in the face Monday at home.
Chief Franco Fuda said he was at his home when he heard a knock at the door and went outside to meet the suspect. The chief said the suspect told him that Fuda was "going to die today" before stabbing him below the eye with an ice pick. Fuda had been in the process of dialing 911, ABC4 reports.
Fuda said the suspect, later identified as Forrest Bowman by the Berkeley County Sheriff's Office, then fled to his mobile home. After a short standoff, Bowman was arrested. He is currently facing charges for assaulting a police officer.
Fuda was at the scene talking with deputies and fellow police officers, his face bloodied from the attack.
Police told WCSC that Bowman was recently arrested after allegedly threatening the pastor of a nearby church and police officers.
According to WCSC, which cited court records, Bowman was recently released on bond for threatening Chief Fuda in 2018