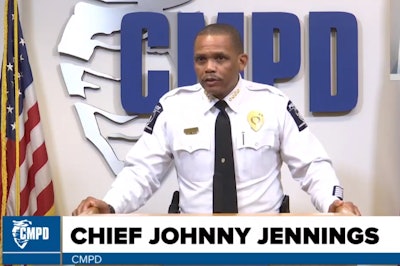 Charlotte-Mecklenburg Police Chief Johnny Jennings has tested positive for COVID-19.
Jennings, Judge Elizabeth Trosch and District Attorney Spencer Merriweather flew to Wilmington, NC, on Dec. 2 to visit a site concerning an initiative involving the impact of childhood exposure to violence and Adverse Childhood Experiences, officials said.
Trosch began experiencing COVID-19 symptoms on Dec. 3 and tested positive for COVID-19 the next day.
Jennings told WSOC he has been quarantining for several days at home after learning he had been exposed to the virus.
"Outside of being a bit fatigued, I feel fine and continue to conduct department meetings from home," Jennings said on Twitter. "Our community should rest easy knowing that daily CMPD operations will resume without interruption and be carried out by members of my executive staff."