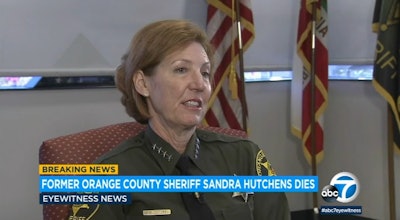 Sandra Hutchens, who served as Orange County, CA, sheriff from 2008 to 2019 has passed away after a lengthy battle with breast cancer, the department announced Monday.

Hutchens was diagnosed with breast cancer in November 2012 and continued to lead the department while successfully fighting the disease for eight years, ABC7 reports.
In a statement, Sheriff Don Barnes said "Unfortunately, the cancer recently returned and Sheriff Hutchens passed this morning with her loved ones by her side."
Barnes described Hutchens as a mentor and friend who served "the department and community's interests first without need for self-recognition."