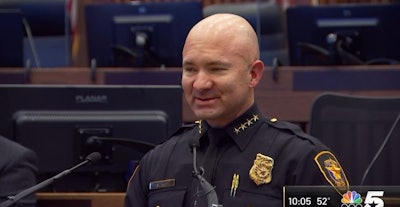 Fort Worth city managers have chosen Deputy Police Chief Neil Noakes to be the new chief, replacing Chief Ed Kraus who announced his retirement last July.
"Chief Noakes is the right leader, at the right time, for the Fort Worth Police Department and the City of Fort Worth," Mayor Betsy Price said in a statement on Facebook. "Chief Noakes has proven to have a heart for servant leadership and a vision for rebuilding and strengthening relationships within our communities. He and the 2,400-plus sworn and civilian employees of the department must work with the community in a spirit of solidarity and partnership to continue to build on the foundations that Chief Kraus has laid. I look forward to voting on his appointment with the other councilmembers at our February meeting."
Noakes joined the department in 2000 and oversees the central, east, and south patrol divisions, NBCDFW reports.
He holds a bachelor's degree in criminal justice from Tarleton State University and earned his master's degree in criminal justice and criminology from Texas Christian University.
Fort Worth has a population of nearly 900,000 and has about 1,700 sworn officers.