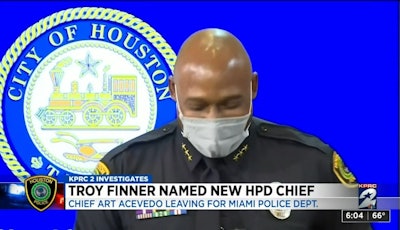 Houston Mayor Sylvester Turner announced Thursday during a press conference that he has selected Troy Finner as the next chief of the city's police department.
Troy Finner formerly served as executive assistant under current HPD Chief Art Acevedo, who recently said he will be the next chief of the Miami Police Department. Finner began working at HPD in 1990 and has served in several capacities over his 31-year-career.
Turner said he earned "his stripes in HPD," which has prepared him to lead from day one. Turner said he interviewed several candidates for the position and said he was looking for a police chief that the city could trust and depend on, Click2Houston reports.
The selection must be approved by the city council, which is expected to happen next week.