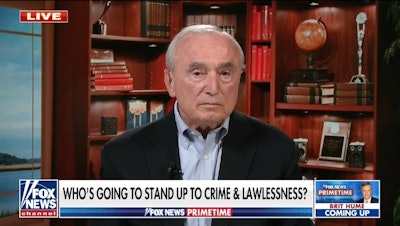 William Bratton, the retired former police chief who served in Boston, Los Angeles and New York—the latter twice—said Tuesday that if offered the job leading a major city's police force at this time, he wouldn't "take the keys."
"I predicted for 30 years that crime would not go back up in New York City and Los Angeles. Boy was I wrong," he said, blaming New York State's Democrat-controlled legislature for continuing to pass criminal justice and bail reform measures that have been approved by Gov. Andrew M. Cuomo.
Bratton told Fox that those new laws essentially erased gains made under his and other police commanders leadership since 1990.
Bratton said the sentiment in major cities toward law enforcement reminds him of the 1970s when similarly progressive policies led to surges in crime and violence.
Bratton noted that many of today's progressive urban district attorneys came into office during time of relatively low crime in their cities.
"So, they are going to be tested sorely now where crime is going through the roof—many of their Progressive policies are just not going to work. It won't be long before the public wakes up to the fact that something need to be done like they woke up after 20 years in the 1970s and 1980s. I think it's going to happen a lot faster," he said.