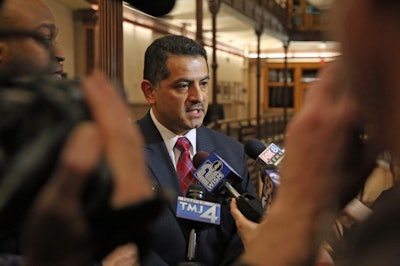 The city of Milwaukee and former ousted Milwaukee Police Chief Alfonso Morales have reached a tentative agreement that will keep him from returning to his job this week.
"The terms of the settlement are forthcoming and subject to Common Council approval," according to a statement obtained by WPR. "Chief Morales and the city have agreed to a stipulation to postpone his return date from July 15 to Aug. 1, 2021, if necessary, to effectuate the terms of the settlement."
If approved, the $626,000 settlement will end a nearly year-long battle between Morales and the city.
Morales has been fighting to get his job back since he was demoted by the Fire & Police Commission in August following months of turmoil amid police brutality protests and years of community distrust of police officers. Shortly after being demoted, Morales retired.
In April, Morales' attorneys filed an affidavit in Milwaukee County Circuit Court demanding the former chief be reinstated. They argued the city wasn't following a December court decision by not returning Morales to his post as chief.
On May 19, Milwaukee County Judge Christopher Foley agreed, ruling Morales must be reinstated within 45 days.
The city has acknowledged Morales' due process was violated when he was demoted.