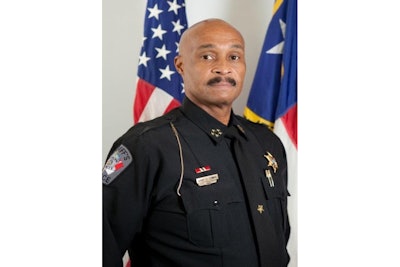 The Richmond County (NC) Sheriff's Office reported Thursday on Facebook that Sheriff James Clemmons had been found dead in his home. No cause of death has been released.
Clemmons joined the Richmond County Sheriff's Office in 1989. He worked his way up the ranks and held the rank of major from 2002 until he was elected sheriff in 2002. He was the first person of color to be elected sheriff in the history of Richmond County, WCNC reports.
In 2020, he was sworn in as a member of the Presidential Commission on Law Enforcement under the Trump Administration, helping to explore modern issues affecting law enforcement.
He was still serving as sheriff at the time of his death.
Under North Carolina law, the chief deputy will assume the responsibilities of heading the office until the Richmond County Board of Commissioners can elect a new sheriff to serve out Clemmons' term, the Richmond Observer reports.
The agency released a statement on Facebook. It reads in part:
"We will all miss him more than any words can express. He was not just our co-worker, but a great friend to all and an awesome leader in our Community.

Please keep our Deputies, coworkers, staff and most of all Sheriff Clemmons' family in your thoughts and prayers."