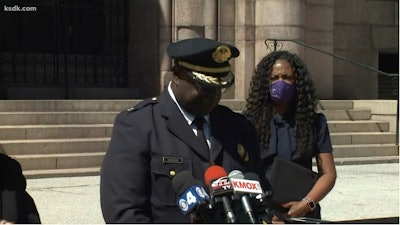 St. Louis Police Chief John Hayden announced Wednesday he will be retiring in late February and city leaders plan to conduct a national search for his replacement.
"This decision was carefully and prayerfully reached between me and my family," Hayden said at a news conference Wednesday. "It's time to pass the baton."
Hayden thanked his department and said he believed the St. Louis Metropolitan Police Department was the best in the world because of the employees, KSDK reports.
Former Mayor Lyda Krewson's administration appointed Hayden to police commissioner in December 2017 after the abrupt retirement of then-Chief Sam Dotson on Krewson's first day in office.
Hayden, 55, has been with the department for 35 years and has served as the city's 35th Chief of Police.
The St. Louis police department has never hired a chief from outside its own ranks, but has conducted pricey national searches in the past.