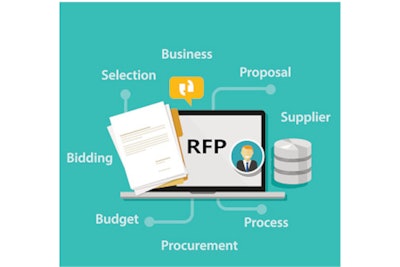 Writing a request for proposal (RFP) or request for information (RFI) is exactly what it sounds like. You submit requests to vendors asking for detailed proposals before deciding which one wins your project.
RFPs ask for service and product pricing information while an RFI is informational only. A bid must follow the RFI should you decide to purchase a product.
WANTS AND NEEDS
A well-written RFP provides a clear, complete understanding about the wants and needs for your agency. Vendors want your business and can submit their best proposal if they understand the project's full intent. Do not skimp on the details.
Knowledge is power, so invite vendors to meet with you to discuss their products and services. In such meetings, you'll glean valuable information about product availability, product care, delivery time frames, service agreements, pricing structures (keep in mind the real prices are given with the RFP submission), warranty agreements, returns, refunds, minimum orders, and any other questions of importance. The result is that you will be a knowledgeable purchaser by the end of these meetings.
Next, provide specific details about the product or service to purchase. Specifications can be written as general or specific, depending on agency needs. As an example, a general bid specification for body armor may read: "Vendor to supply and deliver Level IIIA body armor with two concealable carriers and a soft trauma pack." This general specification opens the economic competitive process to many vendors providing best pricing.
There is a trade off when using open-ended general specifications.
You may receive the best pricing available, but you may not receive the product or service your agency truly desires to purchase because you have communicated that your agency is open to purchasing any brand or style.
With general product specifications, do not hesitate to request samples be submitted with vendors' RFP response. If the product is gender specific or comes in multiple colors request samples of each. Also, let the vendor know in the RFP that the samples may be returned at vendor expense. General specifications subject the RFP process to product variances within a category. You will have to become an expert on the product or service to understand what the variances mean.
At the other end of the spectrum is incredibly detailed specifications that provides a specific brand and service required.
A specific body armor specification might read: "Armor Express Style -Seraph IIIA soft body armor: requirements—NIJ 0101.06 certified; must meet DEA compliant and FBI test protocol; two each Revolution Carriers, one soft trauma pack. Body armor must be manufactured in both female and male cuts. Vendor required to quarterly measure individuals at agency (this may also read vendor to have a retail store front within [XX] miles of department headquarters). Vendor must deliver body armor within 90 days of order. But remember that more detailed specifications and service requirements may limit competition and result in a higher price.
Clearly identify purchase quantity and purchase time frame. But be realistic.
Vendor responses essentially calculate their raw material costs, overhead, labor, and profit margin—vendors need to make a profit to keep their doors open—into their pricing.
If your agency's policy is to replace body armor every five years on a rotational basis, then you will be purchasing 20 pieces of body armor a year for your department. Clearly state the contract time frame; longer time frames may result in better pricing. Vendors love to budget their business with a predictable revenue stream.
SUSTAINABILITY
For uniforms, weapons, and body armor always consider recycling and trade-in value.
Implement sustainability language in your specifications. The volume of clothing Americans throw away each year has doubled in the last 20 years, from 7 million to 14 million tons. In 2018, 17 million tons of textile waste ended up in landfills, according to data from the Environmental Protection Agency, making up 5.8% of the total Municipal Solid Waste (MSW) generation that year. Recycling also solves a safety issue. Destroying used clothing and body armor prevents misuse. For weapons, manufacturer buy backs are a simple way for your department to liquidate a used asset and save money on the new purchase.
Be aware that vendors may be reluctant to sign a five-year contract without a reasonable price escalation clause. Businesses typically cannot fore-cast conditions more than one or two years in advance. Consider locking in firm pricing for the first two years with an annual escalation clause linked to a specific consumer price index.
COMMUNICATION IS KEY
If an agency intends to award their project strictly on price, it should be stated in writing. If the objective of the RFP is to locate a source that will provide the best overall value, then specify what value means. You might say, "While price is a significant factor, other criteria such as past performance, experience, and responsiveness, will form the basis of our award decision."
Do not hesitate to ask for past references and contact them with questions about quality and service. The RFP should provide a date and time vendors must return completed responses. State when a vendor will be selected. Depending on the size of your project you might want to consider requiring a bid bond or performance bond, especially if you know you will be dealing with a new vendor. The bond requirements typically will remove smaller vendors that are unable to handle the project. Finally, make sure to state if you plan to give preference to minority-owned business and what that preference is.
Steve Zalkin is a uniform industry veteran and former distributor of uniforms. He is president of the North American Association of Uniform Manufacturers and Distributors (NAUMD). To learn more about the NAUMD, visit www.naumd.com. You can contact Zalkin at steve@naumd.com