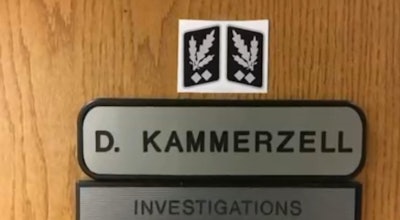 An assistant police chief and 27-year veteran of the Kent (WA) Police Department was disciplined for displaying a Nazi SS insignia on his office door. That discipline, Kent's mayor said Tuesday, does not go far enough.
The display was discovered in September 2020 and reported to the police department, KING5 reports.
Assistant Police Chief Derek Kammerzell received a two-week suspension for violating city policies which prohibit harassment, disclination and unbecoming conduct.
During the city council meeting on Tuesday, Mayor Dana Ralph said she wants Kammerzell's resignation.
An independent investigation includes a photo that shows a Nazi general rank insignia (SS Obergruppenführer) placed above Kammerzell's name next to his office door. In addition to the display there were also allegations that he made jokes about the Holocaust.
According to internal affairs documents, some in the police department would refer to him as the "German General" because of his last name and ancestry.
When Kammerzell was questioned about the Nazi insignia, he allegedly replied, "I stuck it on my door as part of this ongoing joke thing ... I did not know this thing was associated just with a Nazi thing."