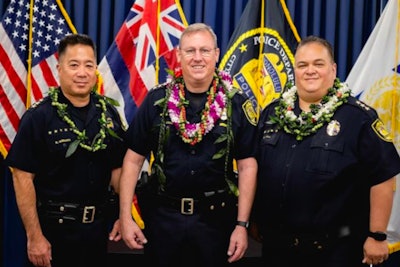 The Honolulu Police Department swore in Arthur "Joe" Logan Tuesday morning as the city's next police chief.
Logan was sworn in alongside his deputy chiefs, former Interim Police Chief Rade Vanic and Keith Horikawa, by an HPD officer during a brief ceremony shortly after Logan passed his preemployment screenings, according to HPD spokeswoman Michelle Yu and Honolulu Police Commission Chair Shannon Alivado.
Logan, a retired major general with the Hawaii National Guard who had been working as a criminal investigator with the Hawaii Attorney General's Office, is now back with HPD after having worked for the department from 1982 until 2002 as a detective and sergeant, Civil Beat reports.