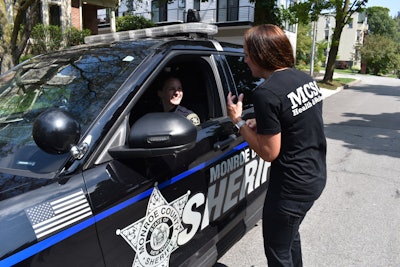 The 1,100 sworn and non-sworn employees of the Monroe County (NY) Sheriff's Office have access to a special mental health program. The MCSO program developed by Sheriff Todd Baxter and Dr. Kim Butler embeds mental health clinicians in the agency.
Dr. Butler says the design of the program is like a three-legged stool. The legs include peer support, programming, and the embedded clinicians. "The vision is to have one full-time clinician stationed at each of the three patrol zones, as well as one at the court," she says.
One of the goals of the program is to help deputies overcome any reticence to speak with the clinicians. "Stigma is found to be the greatest barrier to law enforcement seeking mental health treatment," Butler says. "The thought is that with embedded clinicians they would in time become known—seen at the gym, seen at roll call, seen drinking coffee—where deputies would be more likely to talk to them when the bottom fell out of their world or after a critical incident."
Butler says the program has been a great success. "Hundreds of sworn staff reach out each month, wanting to address their alcohol intake, PTSD symptoms, insomnia, and even thoughts of suicide," she says.
The program is not just for MCSO employees in crisis. Some of it is just to provide some healthy outlets and prevent mental, physical, or monetary issues before they start. "We have offered yoga, meditation, financial planning, and nutrition," Butler says.