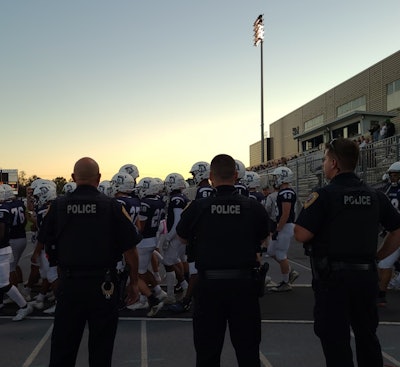 Located in south central Pennsylvania, the Borough of Chambersburg has a long history back to Colonial Days and a population of about 23,000. Police services in the Borough are provided by the 34 full-time officers of the Chambersburg Police Department led by Chief Ron Camacho.
Last year the agency decided to create a combined community and officer wellness program, putting one professional who was already on staff in charge of helping officers on emotionally disturbed person calls and with their own mental health. "This created a niche for an improved continuum of supports fostered by a network that encompasses civilians, sworn officers, and the families of our officers," says Jennifer Ewing, co-responder, community liaison, and wellness coordinator for the Chambersburg PD.
Inspector Meredith Dominick says the combined community and officer wellness program benefits from Ewing's familiarity with the people the department serves and the officers themselves. "The co-responder's work with the community provided a seamless transition into community policing, but it was the relationships that had been built with officers that allowed for the integration of officer wellness into the duties of the position," she wrote in the nomination letter.
Ewing says the program takes a holistic approach to officer wellness. "The wellness program has restructured how the department responds to the whole spectrum of lifetime and career events to include but not limited to births and loss, critical incident stress management (CISM), medical events, and overall morale," she explains.