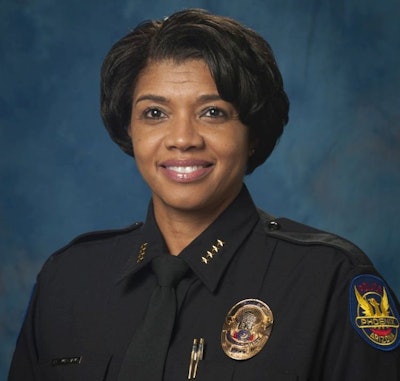 With the New Year upon us, I've been reflecting on the past year. Yes, we have had our challenges but we have accomplished a lot of positive things as well. Let me share my thoughts with you.
Throughout the country law enforcement has experienced the challenges associated with hiring new officers. Phoenix is no different. What we've done is resolve to work very hard to promote the importance of the profession and the benefits of police work as a whole, and routinely showcase the work of our dedicated men and women in uniform. We believe this approach has played a part in our ability to continue attracting committed, service-minded men and women to our organization. In the last three years, we've been able to successfully meet our hiring goals.
Department-wide training has also been a huge success for our agency. Our Advanced Training Bureau has provided our officers with innovative training in the areas of decision-making, de-escalation techniques, small team tactics, and an expanded mental health component. Regarding the latter, additional education from experts and community members in the field has offered greater insight into mental health disorders, allowing us to better understand the unique situation of someone in crisis, which truly connects us to our community.
I am extremely proud of our Crisis Intervention Team training program, which has expanded over the last several years. We continue to partner with local organizations and behavioral health specialists to advance our knowledge in other areas such as traumatic brain injury, autism, and Alzheimer's disease.
We are proud of all of our community partnerships. We work alongside 12 diverse Citizen Advisory Boards, each representative of our diverse Phoenix community. A resounding request from our meetings has been how to provide information about our officer-involved shootings. With their input, we designed and launched an open data showcase that provides current data specific to these critical incidents. The information is now available alongside other public safety datasets including crime data and calls for service at https://www.phoenixopendata.com. This public portal truly allows officers and community members to be informed. Transparency builds trust. And on that note, we continue to expand our body-worn camera program to share, research, and review new perspectives of these critical incidents.
On the topic of officer-involved shootings, our agency experienced an anomaly in 2018. While every officer-involved shooting is concerning, the number of incidents involving Phoenix Police officers nearly doubled compared to the previous year. As of this writing, there were 41 officer-involved shootings in 2018, compared to 21 in 2017. That's 41 times that lives were changed forever and 41 times our officers faced the worst day of their lives.
As we review these incidents, we see no specific geographical connections, demographics, or other commonalities among the incidents, nor any obvious explanation for the increase. Concurrently, we noted an increase in assaults against officers. We also noticed an even more alarming trend: most of the individuals involved in these 41 incidents were armed with weapons. Thirty-five threatened with or used firearms against victims and/or officers, four wielded bladed objects, one used a dangerous instrument, and one used a vehicle as a weapon.
In August of 2018, I reached out to the National Police Foundation and Arizona State University requesting further research into these incidents. The data tells us factual information, but says nothing about the sociological component, or the "why" behind the rise in these critical incidents. Our hope is that we can determine why these incidents are occurring so significant changes can be made to keep our community and our officers safer. This study is a collaborative effort, involving input from our police associations and community as well. While we search for answers, I am confident of one thing: Despite the marked increase, it is not a reflection on our community, our officers, or our department.
I will finish with one final thought. Law enforcement will continue to evolve but some things will never change. As police officers, we are committed to our communities, to each other, and to gaining new understanding into the split-second decisions our officers are tasked with making every day. We are looking for those individuals who want to make Phoenix safer, and are hiring both sworn and civilian positions. Each of us has within us the ability to help in some way.
Chief Jeri L. Williams was appointed chief of the Phoenix Police Department in October 2016. A 28-year law enforcement veteran who previously served as chief of the Oxnard (CA) Police Department, she currently manages 2,900 sworn officers and more than 900 civilian employees.