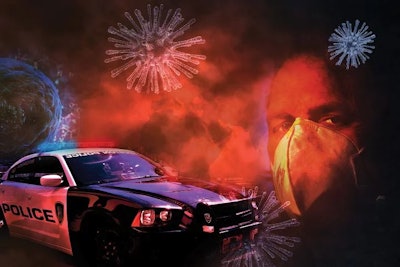 Last week POLICE conducted a survey of law enforcement leaders to discover how their agencies are operating during the Coronavirus Crisis. The study was sent out to POLICE readers who self-identified as sworn officers and as supervisors and commanders ranked from sergeant to chief and/or sheriff. Almost 50% of the respondents said they were chiefs or sheriffs.
What we discovered from the responses is that administrators, commanders, and supervisors are desperately trying to keep their troops safe and their agencies operational during the crisis. They are also looking forward to the end of the crisis, but are concerned about their agencies moving forward.
The coronavirus pandemic is a nationwide crisis, but its effects are not being felt the same in every city or state. This was reflected in the results of the POLICE leadership survey. Only 13% of respondents said one or more officers on their agencies have tested positive for coronavirus. Another 9% said it was too early to tell or they were not sure and 78% said that none of the officers on their agencies have tested positive. It's important to note that it's likely many of the respondents' agencies have not had any officers tested. Respondents said it was much more likely for officers to be quarantined than to be tested, with 55% answering that their officers have been quarantined.
With all the changes in day-to-day law enforcement operations that have been caused by the Coronavirus Crisis, plus the medical anxiety and economic uncertainty that has gripped American society overall, it would be expected that morale would be a problem. Some law enforcement leaders say that is the case at their agencies. But others say morale is high or at least it hasn't fallen. Still, agencies are experiencing morale challenges, especially when the pandemic affects their officers and employees or families of agency personnel.
The NYPD is perhaps the agency facing the most severe coronavirus challenges. One respondent who self-identified as an NYPD officer said morale was "terrible" before the crisis and the coronavirus has made it worse. "There is no plan and no concern for the officers. How can a city this large and with our set of experiences be so unprepared yet again? It's a failure of imagination and our political and law enforcement leadership," the respondent wrote.
Agencies are practicing social distancing both with their own officers in their facilities and vehicles, and with the public.
More than 90% of respondents said their agencies' officers are keeping their distance from other agency personnel, both civilian and sworn. A little less than half of respondents said their agencies are not holding in-person roll calls, briefings, or officer gatherings of any type.
Many agencies are wrestling with how to conduct training during the crisis. In-service and academy training have both taken hits. Only 14% of respondents said academy training is continuing at their agencies. However, it's important to note that many respondents said their agencies did not have academies.
In-service training has either been eliminated or been modified to practice social distancing. More than 45% of respondents said their agencies have canceled all in-service training at this time. Another 40% said their agencies are using online platforms for training. SWAT training has also been curtailed at many agencies.
Respondents were asked to discuss what steps their agencies are taking to provide social distancing protection for officers within their facilities. Many agencies are doing what much of corporate America is doing to minimize employee exposure and keep operations running, civilian employees and even some non-patrol sworn officers are working from home. In addition, shifts have been staggered to avoid cross-contact between officers coming on duty and those going off duty, meetings are being conducted by computer conference, some officers produce reports in their vehicles not in the stations, and some agencies have restricted sworn personnel's access to facilities.
Most agencies are also limiting contact with the public. More than 90% of respondents said their agencies are taking measures to reduce officer exposure. Some of the policies agencies are implementing to reduce public contact include: taking reports for some incidents over the phone, reducing front desk operations, prohibiting officers from shaking hands, ending or minimizing police response to medical emergencies, responding only to crimes against person calls, and avoiding nursing homes and assisted living facilities. Some agencies, even highway patrols, are restricting traffic stops to serious offenses.
Agencies are also using their 911 communicators and dispatchers to help their officers remain healthy. "We have implemented a call screening process where officers are notified by dispatch if anyone at the location has been ill or has COVID-19. If so they contact the caller by phone to handle the call," one respondent wrote.
In addition to finding ways to help their officers avoid exposure to novel coronavirus during this crisis, the law enforcement leaders were asked about their most critical concerns about their agencies during the pandemic.
Maintaining an effective complement of officers was one of the most common answers. Respondents say their agencies were facing officer shortages before the crisis and they are now concerned about keeping enough officers on the street to do the job. Legal repercussions over the actions they are being ordered to take to enforce stay-at-home orders was also a concern expressed by the respondents. Some respondents are worried that crime is thriving during the crisis. "The numbers are going down, but I'm not confident that fewer crimes are being committed. I believe they are not being reported," one respondent wrote.
Finally, we asked the law enforcement leaders about their biggest concerns for after the crisis. Money is a major issue going forward because many agencies have spent much more of their budgets faster than they were projected to spend them. Not only is the budget spent, but many respondents say they are worried about a shortfall in local taxes affecting their agencies going forward. Respondents also expressed concerns about officer burnout, officer retention, officer mental health, the public's desire to celebrate when the crisis ends, and a rise in crime once criminals go back into action.
But some law enforcement leaders expressed optimism for the future. One commented: "I am in Houston and we endured Hurricane Harvey. We lost a great deal of equipment, but we continued our mission without noticeable issues. I have no post-pandemic concerns."