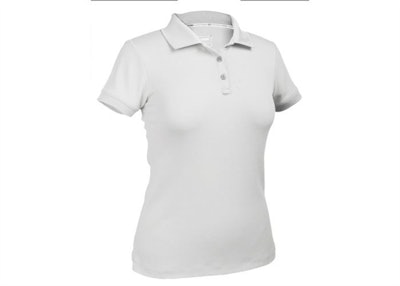 I have to give kudos to BlackHawk for creating its Women's Performance Polo Shirt as part of a line of clothing for women that's great for both on and off duty and meets the needs of the tactically minded woman. We no longer need to struggle in vain to find men's apparel that will do the job and then end up paying to alter male garments to get a perfect fit. BlackHawk has taken the quality of its male line and created women's clothing that not only fits right, it's functional.
I received the Women's Performance Polo Shirt for a personal review trial and I was extremely satisfied. The shirt was white in color, not my favorite choice, but its other features more than made up for that. The shirt was a polo style featuring a three-button front and a knit collar with inserts to prevent it from curling.
The first thing I noticed about the shirt was its feel. It was light and soft, yet felt durable. I held it up in front of me (yes, this is how women size things) and noted it looked to be the right size. I've worn numerous pieces of clothing made for men out of necessity because a women's line didn't exist. So when I pulled the women's Performance Polo Shirt over my head I was amazed that it was a perfect fit. It was cut in all the right places.
This polo fit perfectly around my chest and the length to my waist was dead on, hanging just below the belt line. Its short sleeves weren't too long, and the cut along the obliques created a shape flattering to any female. But as a woman who's conscious of sun exposure, the icing on the cake was that the fabric provides a protection factor of 30.
Made from a nylon blend with a special treatment, the shirt's fabric helped wick moisture away from my body while keeping me cool in hot, sweaty environments. I wore it out on the town and I wore it to play, and in both environments I was satisfied with its performance. I thought washing the polo would have to be its ultimate demise. However, I simply machine washed it and then laid it flat to dry and it was like new and wrinkle free.
I absolutely would recommend Blackhawk's Women's Performance Polo.
BlackHawk Women's Performance Polo
FEATURES:
• Modern fit with cap sleeves
• Constructed of lightweight proprietary nylon blend with moisture-wicking treatment
• Provides sun protection factor of 30 (SPF 30)
• Pique knitted back collar for added comfort and increased airflow at back neck
• 3-button placket
• Hanging loop on placket can be used to hang sunglasses or other items
Colors: Navy, white, black, range red, periwinkle blue, burnt orange
Sizes: Small to XX-large