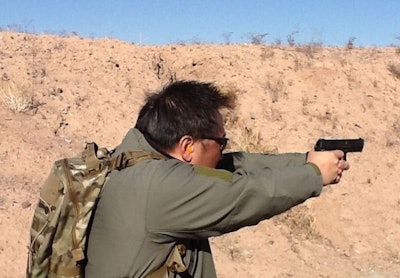 One of the great pleasures of working as an editor on POLICE Magazine comes just once a year—Media Day at the Range, a preview the day before the opening of the Shooting Hunting and Outdoor Trade (SHOT) Show.
Editors and writers from around the gun-media world gather at a range outside of Las Vegas for an exclusive, sneak peek at many of the new innovations that will be unveiled in the next four days at the trade show itself. We get trigger time with the pistols, rifles, scopes, and ammunition we'll be writing about this week.
We're busy getting ready for the show, which runs through Friday, so here's a quick glimpse at several of the innovative items that appeared at the range. We'll have a lot more coverage for you in the coming days, so keep checking back with PoliceMag.com. Also, if you're here in Las Vegas, please drop by our booth (#11979) at the Sands Expo & Convention Center. We love meeting our readers.
Colt stepped up its presence, as well as its offerings, at this year's media day. Company reps said Colt is now focusing more on the law enforcement and civilian markets with the expiration of its contract to supply M4s to the U.S. military. The company brought its LE901-16S modular carbine that can change from 5.56mm to 7.62mm with the swapping of an upper.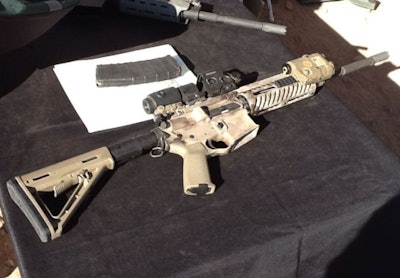 Colt is also offering to law enforcement the SCW (Sub Compact Weapon) with a side-folding and telescoping stock; IAR (Infantry Automatic Rifle) submitted to the U.S. Marine Corps to replace the SAW; and the New Agent compact pistol (in .45 ACP and 9mm) with Crimson Trace laser grips.
In a move that drew plenty of gawkers, Colt brought its 1877 Bulldog gatling gun. The "classic remake," as the company is calling it, is a working replica of a weapon used in the Spanish-American War. The 45-70 caliber weapon fires 800 rounds a minute and will be available for purchase.
Glock puts the lid on introductions of Gen4 pistols this year with the new G32, a .357-caliber compact autoloader that caps the Gen4 pistol line at 11. The Gen4s have improved pistol ergonomics and the dual recoil spring system.
Heckler & Koch brought its HK45 Compact Tactical pistol, which was adopted earlier this year by U.S. Navy SEALs as the MK24. The pistol offers an extended threaded barrel for suppressors, as well as high profile front and rear sights.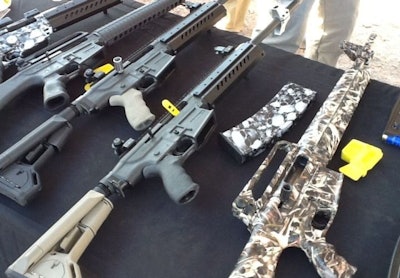 New arrival S.W.O.R.D. (Special Warfare Operations Research and Development) International showed several AR-type rifles that bring military design concepts to law enforcement officers. The company's MK 15 Patrolman Carbine was designed as a "trunk rifle for law enforcement," Jeremy Elrod told POLICE Magazine. Elrod, the director of research and development, is a former Army Ranger.
The 5.56mm-chambered MK 15 Patrolman Carbine arrives with a 16-inch barrel, 1:8 right-hand twist, compensator with crowned tip for pain compliance, and free-float Picatinny quad-rail system.
Arguably the most unusual weapon at media day came from RAAC (Russian American Armory Co.). The company's MKA 1919 concept gun is a 12-gauge magazine-fed shotgun based on the AR platform. The weapon has yet to go into production. RAAC would offer an eight-round magazine to law enforcement and a five-round mag to civilian buyers. The weapon has a second charging handle mounted to the front rail for faster weapon clearing, said Clyde Woods, RAAC sales and marketing director.