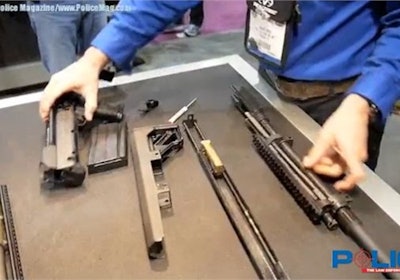 For 2012, Kel-Tec will release a 24-inch Sporter version of its RFB, which stands for Rifle, Forward-ejecting, Bullpup. While the Sporter will likely find a niche among hunters or long-range target shooters, an 18-inch version shouldn't be overlooked for police work.
For the past three years, the company has been offering the 18-inch barrel version. This RFB is well suited to undercover work or other law enforcement missions that call for a compact weapon that delivers .308 knock-down power.
This fully ambidextrous rifle, which is chambered in 7.62x51, measures just 26.1 inches. It offers less weight in front than a typical AR-type rifle and would give officers quicker target acquisition, Kel-Tec rep Chad Enos tells POLICE Magazine.
"If they have to fire from a vehicle, the barrel extracts casings from the front of the gun, so you don't have rounds in the vehicle," Enos said at Kel-Tec's SHOT Show booth.
As Enos explains, the ejector port is a small hole at the front of the rifle that kicks casings forward (watch Enos disassemble the gun in the above video).
The rifle requires metric FAL magazines offered in 20- and 30-round capacity. It's available in three finishes—black, Coyote tan, and OD Green.