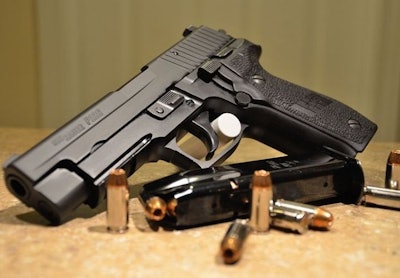 SIG Sauer's aggressive expansion of its handgun lineup will include a new model called the P227 that could be introduced as early as SHOT Show 2013, according to a Missouri firearm dealer.
The P227 will be a .45 ACP pistol with a double-stack magazine that's based on the P226, according to SIG Sauer Guns and Accessories, a website operated by Osage County Guns in Belle, Missouri.
The P226, which is available in 9mm, .40 S&W, and .357 SIG, was SIG's military replacement for the 1911. The pistol is carried by the Texas Rangers, Ohio State Highway Patrol, Michigan State Police, and numerous federal agents. U.S. Navy SEALs also carry the P226.
The P227 would compete with Spingfield's XDM, Smith & Wesson's M&P, and FNH USA's FNP45 pistols.