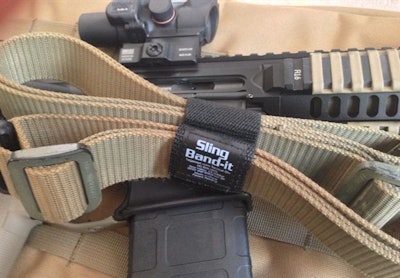 Sometimes little gadgets can make the biggest difference. There are probably 100 things in your everyday life you'd love to make more efficient. If you carry a weapon system with a sling, fighting with that sling is likely one of these.
I run a single-point sling on my long guns. It's everything I want in a sling—simple, effective, and secure. The one issue I've always had with my slings is what to do with them when they're not around me. If you're like me and keep your rifle readily accessible in your vehicle, you know the frustration of having your sling get caught up on something when you need to deploy quickly.
I want to gather up the sling and secure it in a nice, neat bundle and deploy it efficiently. In the past I've seen guys use everything from rubber bands to sections of bicycle inner tube. These things work, sure, but they don't last very long and usually fly off the sling when it's deployed, making them a one-time-use solution. Evidently the folks at TatJacket have experienced the same problems because they just came up with a stellar solution, the Sling Band-It.
This little gizmo is simple but highly effective. It's made of one small strip of nylon and one small strip of elastic sewn together at the center and with hook and loop at either end. This allows each strip to form a loop, essentially making a figure eight when the hook and loop comes together.
Application is simple. The nylon side goes around one portion of the sling and stays there. You can then fold up the sling and secure it through the elastic portion, creating a neat little package. When you need to deploy, just hook your thumb into any portion of the sling and pull. The whole package comes undone and is ready for use.
The nylon section remains on the sling and ready again when everything is Code 4. They'll work on one-, two-, or three-point slings and won't impede the weapon's ability to fire when secured. One works well on my single-point sling; you may want to use more depending on your set-up.
I've had one of these on my duty rifle for a couple of months now and play with it constantly—not only because training is essential with any new piece of gear, but because I think its fun to see how fast I can get my rifle slung. My sling hang-ups are a thing of the past. At under $10 bucks for a pack of two, the Sling Band-It is an affordable way to solve a big frustration. Grab a pack and stop fighting with that sling.