Making one's way through the Riviera Hotel and Casino's lobby to the taxi line outside, one is hard-pressed not to take note of the signage promoting the backsides of the casino's "Crazy Girls" performers.
Minutes later the waiting taxi shuttles me to the SHOT Show at the Sands Convention Center and thus it is that within five minutes I make the transition from the promise of supple derrièresto the reality of hard asses. I'm talking everything from former marines (R. Lee Ermey, one of the few celebs I wouldn't have minded getting my picture taken with, but the line was too long), to heroic cops and Medal of Honor recipients, to those guys that compose the Duck Dynasty gang (Hey, Sy was in Vietnam so he fits the mold of hard ass).
Not that these guys and their fans are afraid to wear their hearts on their sleeves and t-shirts, too: Where else than an exhibition for hunting and law enforcement firearms are you going to see t-shirts asking, "Have You Hugged Your Colt Today?", exhorting you to "Buy A Gun—Annoy a Liberal," or celebrating diversity in the form of a collage of Smith & Wessons, Glocks, and Kimbers? Hey, it gives me the warm fuzzies.
But when it comes to genuine emotion, one had to take in California Department of Corrections Agent Nate Castro's recognition by the Safariland Group as the latest member of the company's Saves Club. Castro's appreciation for the Second Chance body armor that saved his life some nine weeks ago was palpable—so much so that he had difficulty getting the words out when explaining how he'd been shot in the chest while making entry on the home of a wanted felon. Thanks to his Safariland body armor—responsible for no less than 45 line-of-duty saves in 2013—Castro is still around for his wife and three children. Congratulations to Nate for surviving his harrowing—and heroic—ordeal. And to Safariland for continuing to produce a product armor that officers can literally stake their lives on—and do. Read Full Story Here.
If you're tired of frittering your hard-earned dollars away on disposable ear plugs for hearing protection but resent the impositions of over-the-head wraparounds you may want to consider Sonic Defenders from SureFire. These patented snug lobe-contoured EarLock retention plugs are made out of long-lasting hypoallergenic polymers and come in both filtered and full-block models. If only we could get the same for politicians and other BS artists.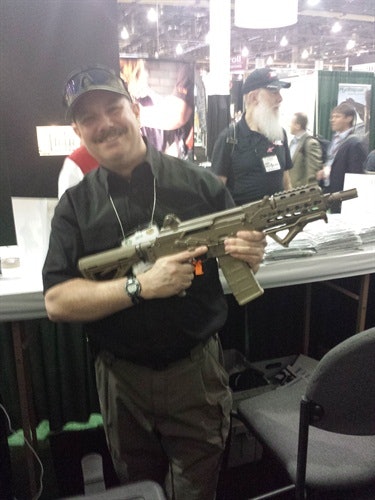 Speaking of polymers, we had a gentleman come by the booth who showed us a prototype firearm that he calls the Krebs Custom AK--?]15 SBR and it looks damn impressive (see picture of my friend, Gerard Zlotkowski, holding said specimen). Right now it's one of a kind, but if its producer has his way, it won't be for long. He is shopping the 5.56 NATO SBR to law enforcement agencies. To be candid, I don't know that he will get many takers—not that the weapon isn't a nice one (if it performs like it looks and feels, I'd want one). It's just that I suspect that most law enforcement agencies will prove too politically conscious in giving a firearm derived from the AK-47 design serious consideration as an addition to their arsenals.

When it comes to pistol grips, I'm still looking for something that conforms comfortably with my natural grip without compromising weapon retention or the ability to get back on target between rounds. There are new firearms such as the new R51 subcompact from Remington that are promoted as allowing you to get back on target faster due to less muzzle rise and felt recoil. The Remington R51 incorporates a separate breech block within its slide to allow for the use of high pressure rounds such as the 9mm +P. Lowered and flared ejection ports allow for improved ejection of spent cases. Meanwhile, Smith & Wesson's M&P features an 18-degree angle grip that approximates a more natural point of aim. Combine that with three interchangeable palmswell grips tailored to your individual needs and it sounds like a winner.
Round-conscious buyers may want to look at the CZ-USA's CZ P-09, which offers a 19-plus-one capacity (!). Capable of being converted to a manual safety-system pistol, its interchangeable back straps—small, medium, and large—allow shooters to customize the pistol grips to their hand size for optimal trigger-finger positioning. This model also accepts a variety of aftermarket suppressors.
Lessons learned the hard way: When you look outside your hotel window and see guys in short sleeves, it doesn't mean it's warm. Remember some of these guys are from Wisconsin.
I want to thank those who've stopped by the Police Magazine booth (11979) to say "Hi." To those I missed who left their cards, you'll recognize the sound of my heavy breathing on the phone soon enough.
That's this volume's roundup. Till next time…