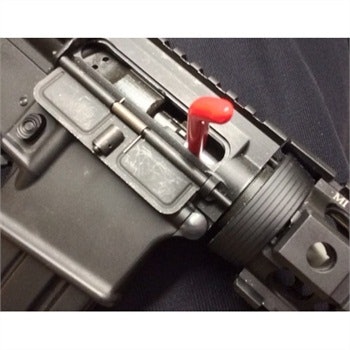 The use of AR-15 rifles in law enforcement is about as common as radios and gun belts. Although some (mine included) carry them loaded and chambered, many agencies choose to carry their rifles unchambered, or "cruiser ready" as some call it. This means there is a loaded magazine in the receiver but no round in the chamber. The operator would need to pull the charging handle to the rear to chamber a round upon deployment. This is a safety practice due to the AR-15's floating firing pin.
A few of the downsides to carrying an unchambered rifle are slower deployment time and the uncertainty of the condition of your weapon. Historically, chamber plugs or chamber flags, small colored plastic inserts placed into the chamber, were used to provide a visual confirmation the rifle's chamber was empty. Unfortunately these plastic plugs were less than robust and had to be manually removed from the rifle.
Warrior Tech, LLC took the chamber flag concept and improved upon it greatly. The company's new SafeCycle chamber verification device is similar to a chamber plug in that it provides quick and accurate visual confirmation that the rifle's chamber is empty, but goes above and beyond that in a few ways.
The SafeCycle is machined out of aluminum, making it rock solid yet soft enough not to mar the rifle's chamber. It has a large handle on the side covered with a bright red, pink, or green plastic cover making it very visible and easily manipulated. And the rear of the SafeCycle is machined to the profile of a 5.56mm casing, allowing it to fit tight to the bolt face and engage the extractor.
Need to deploy your rifle? Either use the charging handle, or pull back on the side handle of the SafeCycle and the rifle is loaded and ready to deploy. The SafeCycle is ejected and a live round takes its place. It's very fast and, through the multiple repetitions I gave mine, works every time. The SafeCycle is made in the USA and available through www.warriortech.us for $24.99 with discounts for bulk orders.
A.J. George is a patrol sergeant with the Scottsdale (Ariz.) Police Department who also serves as the SWAT team's crisis negotiation supervisor. He has almost a decade of law enforcement experience in patrol, field training, and traffic enforcement.