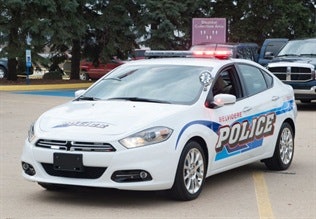 The 2013 Dodge Dart sedan, powered by a 1.4-liter four-cylinder engine, won't scare any traffic scofflaws. However, that hasn't stopped the Belvidere (Ill.) Police Department from equipping one as a marked unit.
The vehicle, which was built at Chrysler's Belvidere plant and donated to the agency, has been primarily used for community relations duties such as civic ceremonies, parades, city gatherings, a county fair, and other public events.
The department has been using the vehicle since late 2012, when it was equipped with Whelen's newest lightbar, the all-LED Legacy. Emergency lighting was also installed in the grille, side mirrors, and headlight bezels.
Chrysler is considering producing the Dart as an administrative vehicle that would not be pursuit rated. About 20% of law enforcement fleet vehicles are non-patrol vehicles used by detectives, police administrators, and other police department personnel, according to Chrysler.
Belvidere Police Chief Jan Noble has been providing feedback to the automaker about the Dodge Dart. The department currently patrols its jurisdiction with Dodge Charger Pursuit cruisers.
"The vehicle has been a tremendous public relations tool," Chief Noble told POLICE. "This Dart is marked, and it almost looks like the little brother of the Dodge Charger."
Chrysler re-introduced the Dart compact sedan into the retail market for the 2013 model year. An earlier-generation Dart was last offered in 1976, the same year Chrysler offered a limited-edition police package (A38). Most of those vehicles were sold to the Los Angeles Police Department and Ventura (Calif.) Police Department.