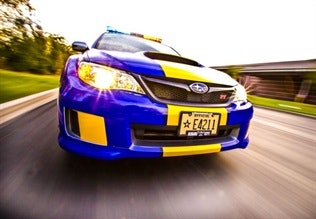 The Greenfield (Wis.) Police Department's 2012 Subaru WRX STI makes an impression on traffic scofflaws and cruisers who often request a ride in the vehicle after an arrest.
The vehicle, which was acquired on a courtesy lease from Schlossmann's Subaru City, looks the part of a pimped-out rally car. A full vinyl wrap depicts a "peeled paint" image, suggesting the vehicle's blue paint scheme was blown off by high-speed wind at the race track.
"We use it for speed enforcement, cruising enforcement, and community service assignments," Chief Brad Wentlandt told POLICE. "It's a great way to connect with the community and sparks dialog with the officers."
The department brought the vehicle to a regional auto show at Miller Park last summer, and there were more than 100 people in line to take a photo and sit in it. The Subaru is at least as popular as the agency's police dogs, Wentlandt said.
Federal Signal provided a lightbar, and Motorola donated a radio. Milwaukee 2-Way and General Communications also donated police equipment.
The vehicle also attracted a local photographer, Jay Baumgardner, who highlighted it during a photo shoot. To get his enhanced shots of the Subaru, Baumgardner attached a rolling camera rig that included a Manfrotto Magic Arm, Canon T2i DSLR camera, and Tamron 10-24mm lens.
View more photos from Baumgardner's shoot here.