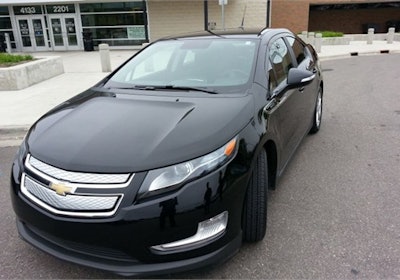 To help reduce the carbon emissions of county fleet vehicles, the Washtenaw County (Mich.) Sheriff's Office purchased an electric Chevy Volt to convert for patrol duty.
Deputies will use the vehicle for patrol in a non-urban area, and a school resource officer will use it when providing security to a school, Bob Mossing, the county's fleet manager, told Government Fleet magazine.
"We've been trying to green our fleet for a long time, but the problem is the majority of vehicles in the fleet that create the largest carbon footprint are police vehicles," Mossing said. "We have done a good job of putting vehicles on the road that get better mileage, but we still use a lot of gas. We still drive a lot of miles. This is an opportunity to see what the Volt can do for us."
Deputies have begun driving the vehicle in a county that contains Ann Arbor and the University of Michigan, and will provide feedback before it gets fitted with emergency equipment. Mossing said he doesn't want to "jeopardize deputy safety" by rushing it into service.
"We're testing new-vehicle technology and new equipment on the vehicle," he added. "Instead of putting a large laptop in the vehicle, we're going to put an iPad in there. The iPad will connect through 4G connectivity and the virtual network to get into all the police software they need."
Mossing said the sheriff's office is considering the Volt to replace its Ford Crown Victoria sedans and Chevrolet Tahoe SUVs. The sheriff's office purchased the Volt from a local dealer for about half the price of a new vehicle, because it has 50,000 miles on it.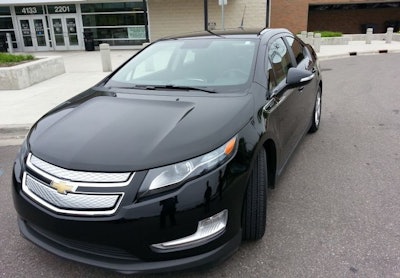 The Washtenaw County SO upfitters will add police equipment despite the vehicle's space constraints. Mossing said he expects the vehicle to be ready for service in about two weeks.
"We're going to provide equipment and work around the limited space we have," Mossing said. In addition to the iPad, upfitters will install a customized cage and a hand-held light and siren controller instead of a console-mounted one. It will also get radios and in-car video equipment.
Test drives are already underway, and deputies have reported getting about 60 miles on the battery alone. With no charging stations available yet, deputies are charging the vehicle, which takes more than eight hours, during the night shift on a 110-volt outlet.
Mossing said he hopes to work closer with General Motors to provide a more upfit-ready version of the vehicle that arrives with fewer civilian items and more room for police equipment.
Thi Dao is the managing editor of Government Fleet magazine.