Chicago Police Officer Joshua Purkiss picked a gruelling way to honor the counter-drug training that's made him a better narcotics investigator.
This summer, Purkiss will participate in the Spartan Death Race—arguably the toughest race on the planet. Calling it a race, in fact, fails to convey just what's involved. Called the "ultimate test of endurance" by its organizers, the Spartan Death Race is an obstacle race that breaks more than 80% of its participants. It's an endurance test comprised of mud runs, obstacle racing, trail racing, physical challenges and mental challenges that lasts more than 48 hours.
You may ask why a 34-year-old Chicago Police officer who regularly encounters high-risk felons as a member of a regional narcotics task force would subject himself to this tribulation. For Purkiss, participating in the race allows him to bring attention to the plight of the Midwest Counterdrug Training Center (M.C.T.C.).
The center has slashed its courses after crippling federal budget cutbacks. The center has also had to eliminate food and lodging stipends for officers who must come from miles away to attend classes.
"We're roughly at 50% of what our normal funding would be," Bruce Upchurch, the center's training director, tells POLICE Magazine. "We used to provide lodging and meals for law enforcement within 50 miles of the training center. We had to do away with that."
The center relied on federal earmarks, which were eliminated in November, and appropriations funding from the Department of Defense. The funding cuts forced the center to close in the fall, but about half of the classes will resume in March after supportive members of Congress successfully lobbied for 2012 funds.
Earlier in his police career, Officer Purkiss attended training at the center, which is based at National Guard base Camp Dodge near Des Moines, Iowa. Purkiss now wants to help a training center that helped him. His awareness campaign includes an online petition.
"The ultimate goal is to bring attention to the lack of funding for M.C.T.C.," Purkiss tells POLICE. "Bringing proper training facilities to law enforcement needs to be in the forefront of Congress' mind. It isn't."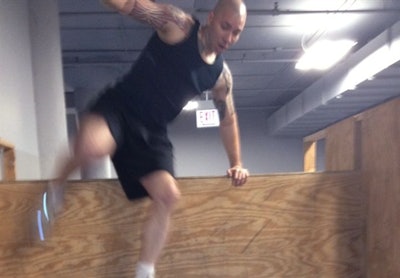 Purkiss began a training regimen in late 2011 to prepare himself for the Spartan Death Race. He scales a six-foot wall 50 times to warm up for his workout. Next, he walks with weight, carrying two 50-pound dumbbells for a mile. Finally, he turns his attention to resistance training known as California ropes—a 40-pound shipping rope folded in half that's attached to a wall. Purkiss manipulates the ropes in a variety of ways to cause stress and fatigue to multiple parts of his body.
This year's race takes place in Pittsfield, Vt., on June 15. Because the location is an additional 800 feet higher in elevation than Chicago, Purkiss has been conducting some of his training wearing an elevation mask.
"I'm running this race to show the public, as well as my fellow officers, what can be done when we put our minds to a task," Purkiss adds. "My hope is that the pain I'll suffer during the race won't be in vain, but that it will light a fire under Americans to back their police, restore the funding to M.C.T.C., and give a different view of police as a whole."