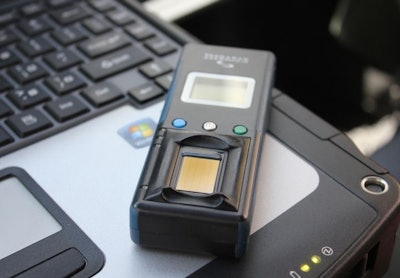 In law enforcement, new technology for police forces often arrives slowly and sporadically. This glaring reality can be especially true in the post-recession years as department budgets tighten.
In California, we're seeing a critical shift to high-tech gadgetry that could be a bellwether for forces across the country.
The Los Angeles County Sheriff's Department, in November, began replacing 1980s-era technology in its patrol cars with a Raytheon mobile data computer system that's been battle-tested by soldiers in Iraq. The new laptop computer systems will be added to more than 2,400 patrol cars, motorcycles, prisoner transport vehicles, and SUVs.
By taking the sheriff's station into the streets, deputies can use their Panasonic Toughbook laptop to access the Sheriff's Data Network and criminal databases, including FBI records; California Department of Motor Vehicles (DMV) photos; GPS routing to emergency calls; and biometric data, such as fingerprints. With this on-the-spot delivery of information, deputies will no longer have to go to the station to pull up a mug shot or pull over to thumb through a paper road map.
Then there's the California Highway Patrol, which is responsible for 15,181 miles of highway in the state.
Recognizing the need for effective interoperable communications during an emergency, CHP has taken nine Chevy Tahoes and transformed them into incident command vehicles. These state-of-the-art SUVs will operate as public safety command centers on wheels. These vehicles are outfitted with the latest communications equipment, including satellite, cellular, VoIP (Voice over Internet Protocol) and Internet access. At the center of this mobile command and control unit is the ACU-1000 Gateway system, a Raytheon technology that can cross-connect different radio networks, connect those networks to phone or satellite systems, and function as its own network connection.
As the largest sheriff's department and largest state police agency in the nation, the LASD and CHP are showing that it's possible to implement cost-effective technology upgrades that give road officers the information they need within seconds when it matters most. As a former LAPD officer, I can only imagine how much this would have helped me when I was in the field.