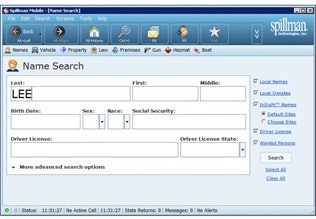 Law enforcement agencies using Spillman Technologies' Mobile and Records Management software will be able to take advantage of a planned update that incorporates the FBI's proposed "violent offender" file.
To provide more information about a subject's past criminal record that may post an officer-safety threat, the FBI has anounced it will add the file to its NCIC index in August. The file would provide information such as whether a subject has been convicted of assault or murder of a law enforcement officer, fleeing, resisting arrest, or other crimes against officers.
The software update will allow law enforcement officers to quickly identify violent offenders during a traffic stop or other encounter, according to Spillman.
To help customers utilize the new NCIC feature, Spillman Technologies plans to add a violent offender search option to its existing StateLink module, said Doug Leffler, a Spillman research and design business analyst.
Personnel will be able to see if a person has committed violent offenses like assault or resisting arrest, while simultaneously querying the NCIC database for information about outstanding warrants, searching their state database for driver's license information, and searching their agency's database for information about previous arrests or convictions.
In addition to the StateLink module, customers will be able to use Spillman's InSight data-sharing product to query other agencies' databases for information about individuals.
The enhancement will be provided at no charge to Spillman customers who own the StateLink module. Personnel will be able to access the violent offender information from agency headquarters or their vehicles' laptop computers. Leffler said the NCIC change will help alert field personnel to potentially dangerous situations.
"We anticipate that this feature will be very valuable to law enforcement," Leffler said in an e-mail. "Before officers or deputies even get out of their vehicles, they will already be able to know if the person they've stopped is a violent offender."
Related: