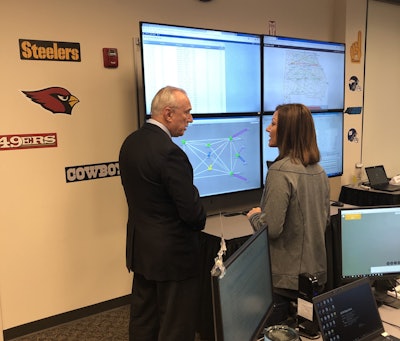 The three Cs—command, control, and communication—are vital for the success of public safety protecting any large scale event.
When it's the Super Bowl, and hundreds of thousands of people take up weeklong residence in every hotel room and B&B within 60 miles of the host city, the infrastructure for seamlessly communicating between agencies—as well as for those citizens to connect with each other—is critically important.
For two years, Verizon—provider of wireless and fiber-optic communications systems for public safety as well as consumer customers—has been working on Super Bowl preparations, which includes working with the host city of Atlanta and surrounding jurisdictions.
The communications company has laid more than 350 miles of additional fiber-optic cable throughout Atlanta and installed 30 new permanent cell sites. In addition, the company has added more than 300 permanent small cells and capacity enhancements. For the weeks immediately before and after the big game, additional temporary cells will be active. The company also installed close to 50 in-building solutions to enhance performance in places like hotels and shopping centers.
All of the communications infrastructure will be monitored at what Verizon calls the Command Center. In essence, Verizon has set up what looks and feels just like a public safety Joint Operations Center with two dedicated teams of about 40 people monitoring the network and directing field personnel to deal with any potential problems throughout the coverage area.
Verizon Director of Network Assurance Michelle Kababik said, "We have all these people specialized in certain roles for special communications and monitoring. So you would have someone monitoring a portion of what we call the Super Bowl Center, which is all the venues. And then we have someone monitoring the points of interest, which are the hotels surrounding and then the airport."
Retired Police Commissioner Bill Bratton said, "Anticipating that there may be upwards of a million additional people running around the Atlanta region during the next four or five days, they have really ramped up their capabilities over and above what they would have on a day-to-day basis."
Bratton added, "What Verizon's attempting to do—what Public Safety is attempting to do with their collaboration—is allow the audiences that will be in that stadium and in the immediate area, to have uninterrupted enjoyment of the game. And in our world today that enjoyment involves use of electronic devices—tablets, phones, computers, you name it."
Priority Status
Bratton then explained further that if there were to be an emergency—particularly one of some significant magnitude that would generate a phenomenal spike in the of use of smart phones to upload images and video to the internet and exchange text messages and calls—public safety would not have to worry about losing its connectivity because there is technology in place that allows public safety wireless users to have priority on the network.
In March 2018, Verizon launched what it calls the Public Safety Private Core, a network that separates public safety traffic from Verizon's commercial and consumer traffic. This means first responders have an extra layer of security for their data and they don't need to compete with commercial users for network resources.
Bratton explained that the prioritization is the equivalent of an HOV lane, where commercial users are kept separate from public safety users so that communications among partnering agencies remains unbroken despite a massive spike in usage.
The system can even shut down the entire freeway, allowing only public safety users to use the network for a period of time. Bratton called this preemption.
Prior Preparation
Communications between agencies via handheld radios is equally important, and comes with added layers of complexity, particularly when the number of agencies in an area suddenly increases with mutual aid being provided by departments from outside the immediate area.
Retired San Francisco Deputy Chief Jim Dudley said that infrastructure is critical, but intricate planning and coordination well in advance of the event is equally important.
"When we did the baseball playoffs and the World Series—and when we did America's Cup (yacht racing)—we had so many multiple agencies all trying to talk at the same time," Dudley said. "We had to have an 'all' channel that everybody could hear everything broadcast over, and then we had to have sub-channels so that working groups could work together."
Dudley said that during the planning phase prior to these events, myriad agencies from around the San Francisco Bay Area came together to create a framework for how individual teams would be able to communicate with one another without creating problems with overusage of any given radio channels. For example, groups were set up so that specialized units like SWAT, EOD, K-9 and the like could communicate among themselves or with each other, depending on the need, allowing the larger group of radio units to keep doing their jobs without interference.
"I'll give you an example. In the World Series—in the Detroit World Series—we spotted a heat source in a tent area in a parking lot that we did not anticipate. We moved a team to investigate. In the command post we're looking at video and we're saying, 'No, you're going the wrong way. Turn. Yes. You're going the right way. Go another 100 yards forward. Turn right and you should be looking at it.' You don't want to take over the whole channel for that, so we took advantage of those sub-channels. We had planned in advance to be able to do that."
Everybody Wins
As I write this it is unknown who will lift the Lombardi Trophy at the end of the contest between the New England Patriots and the Los Angeles Rams on Super Bowl Sunday, but the citizens of Atlanta and the public safety agencies who serve them will all be winners.
All of the infrastructure that has been put in place over the past two years will remain available to citizens and public safety users for decades to come.
The public and the police in two Florida cities—Miami and Tampa—can also look forward to similar benefits, with Verizon already making preparations in those metropolitan areas for Super Bowl LIV in 2020 and Super Bowl LV in 2021 in those cities.