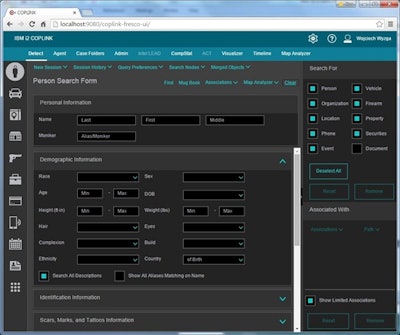 IBM has announced that it is now making a version of IBM i2 Coplink where the data will be stored on the cloud and users can pay for the software and access to the data through a software as a service (SaaS) subscription model.
Tim Riley, an IBM business unit executive for law enforcement, says IBM i2 Coplink on Cloud was developed at the request of many agencies that were interested in using Coplink but wanted a cloud-based solution. He says Coplink on Cloud allows agencies of all resource levels to gain access to the IBM i2 law enforcement information sharing software without incurring the cost of maintaining their own servers.
Riley says IBM will operate all aspects of the solution, including the software, the hardware, and the security. Coplink on Cloud allows agencies to access their own data and data from agencies with which they have information sharing agreements without incurring the expense of maintaining their own servers and without a large capital expense upfront.
Riley adds that more than 6,000 agencies nationwide are currently using Coplink and they and new customers will benefit from the new cloud-based software. "With Coplink on Cloud we can help our existing customers by taking the IT burden off of their backs and enhancing the security of their information. We can also make Coplink available to other law enforcement agencies across the country who don't have the capital to start up their own systems or have the IT support to maintain it."
"IBM's decision to make i2 Coplink accessible via the cloud enables the transformation of law enforcement to continue—now a department with 40 police officers can access the same data and analytics tools as a department of 40,000," says Robert Griffin, general manager, Safer Planet at IBM
IBM i2 Coplink uses sophisticated analytics and "fuzzy" searches to allow investigators to discover hidden relationships and patterns that can be used to solve crimes. Geospatial mapping features in the software can quickly create maps, highlighting types of incidents such as arson, burglaries, or prowling by specific dates or times of day, and location.
"Placing this law enforcement technology on the cloud changes the game for the industry because agencies of any size can access shareable documents across state borders," says Major Dermot Quinn of the Massachusetts State Police. "Having a tool that gives law enforcement officials the ability to solve crimes quicker can transform the way we protect our communities."
Users of Coplink on Cloud can access the data from more than 1.25 billion documents such as arrest reports from CJIS-approved servers via desktop computers, laptops, and mobile devices such as tablets and smartphones. The software is hosted at Nlets—the International Justice and Public Safety Network.
IBM i2 Coplink on Cloud is part of IBM's Safer Planet portfolio for public safety, intelligence, cyber threat intelligence and counter fraud professionals. To learn more visit www.ibm.com/analytics/us/en/safer-planet/.