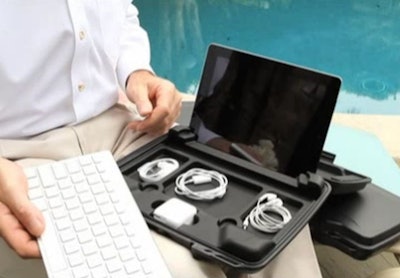 Accessories for tablets are still being developed, but plenty of cases and mounts are currently available.
Being able to carry a tablet around is very convenient, until you don't want to carry it. That's why mounts are so useful. In cars, they can be positioned outside of the air bag zone because tablets are small, and mounts anchor the device in place to prevent it from becoming a projectile during a car crash.
Several mounts have recently debuted for various tablets. Havis has developed a docking station designed specifically for Panasonic's new A1 Android tablet that you can set on your desk or mount in a cruiser. Gamber-Johnson sells the TabCruzer for the iPad and a new universal mount that can be adjusted to fit most any tablet on the market.
If you have an iPad and plan to carry it on the job, you need the protection of a case to keep it from breaking, and OtterBox is a familiar choice. But there are other carry options as well, including a case and even a specially designed pack from Pelican.
Because ruggedized tablets are already protected, Danny Adams of tablet manufacturer Handheld US says the only true function of a case for one of his products would be to make mounting easier for certain set-ups in cars. But his company plans to sell additional optional accessories to make carrying its tablets easier. "We'll make holsters, shoulder straps, and chest mounts, so there will be many ways for officers to carry the device the way they want to," Adams says.
Related:
Tablet Mounts and Docks
Tablet Cases