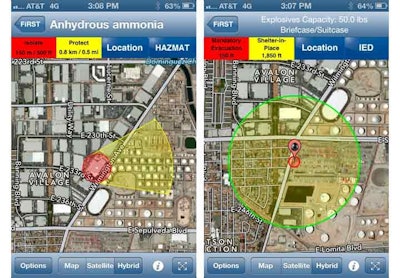 The First Responder Support Tools (FiRST) app for iOS, Android, and Windows can assist you with HazMat spill evacuation and IED standoff distances.
This easy-to-use app, developed by Applied Research Associates Inc., integrates reference data from the 2012 Emergency Response Guidebook (ERG) and is based on threat standards set by the DHS Office for Bombing Prevention and FEMA 426, Reference Manual to Mitigate Potential Terrorist Attacks Against Buildings.
The app quickly plots that data on your phone, tablet, or computer. What makes this app so useful is that is also incorporates real-time weather data when plotting potential down-wind evacuation information.
When you first launch the app, you arrive at a map screen showing your location. On this screen, place the crosshair at the incident. Next, choose either HazMat or IED. Now choose the specific incident information.
I tested IED response for a 50-pound device (right photo), and the app provided a view with location, evacuation, and shelter locations. You can easily screen-capture, and send this from nearly any device.
For the HazMat test (left photo), I plotted an anhydrous ammonia spill, and the app gave me down-wind evacuation recommendations for that time and weather. Keep in mind that as conditions change, so will your protection zones. You can enter the options area of the app to update data.
The application also allows users to view key sites and infrastructure such as schools, government facilities, and hospitals. It allows you to place roadblocks or view recommended roadblocks based on your incident. Keep in mind that if you have a phone or tablet on Wi-Fi only, you'll have to adjust location and site information accordingly.
Because of the proprietary nature of the information, only those with government credentials can view the IED data. The registration process is simple, and you receive an unlock code for the entire application.
| | | | | | | | | | |
| --- | --- | --- | --- | --- | --- | --- | --- | --- | --- |
| App Review | | | | | Ratings (of 5) | | | | |
| Name | Platform | Developer | Price | | Usefulness | Ease | Support | Value | Overall |
| FiRST | Android/iOS/Win. | ARA Developer | $9.99 | | 5 | 5 | 4 | 3 | 4 |
George Rudenko is a senior officer and HazMat specialist with the Department of Homeland Security at the Los Angeles Seaport.