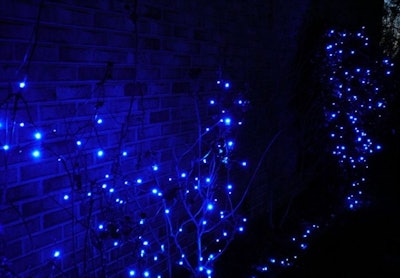 I really like the "straight-talk" description assigned to me on the home page of this blog. Knowing that what was once a professional liability when I was on the Los Angeles County Sheriff's Department is now a sales point just warms my heart to no end.
However, having my name prominently displayed on the patrol blog page brings with it certain collateral responsibilities. I have become a de facto clearing house for some of the dissent that comes in from readers despite the fact that I enjoy no monopoly on the patrol blog page, as there are other writers who work on it.
Anyway whatever does appear on this blog eventually gets back to me somehow. And such is the case with the recent blog post, "Backing the Badge: Project Blue Light," which was written by Mariah Hughes.
Ms. Hughes' blog was brought to my attention by a reader who asked to remain anonymous. He expressed certain officer safety reservations with the piece.
In reading the blog, I quickly came to understand his concerns.
Now I want to say from the outset that I think that Project Blue Light is a great idea, and it is not my intent to criticize Ms. Hughes. Putting blue lights in one's home during the holidays to memorialize our fallen peers is an extremely compassionate and laudable gesture in my book.
But that's in my book.
Unfortunately, I suspect that there are others who would not feel the same way. And here is where I wonder if the idea necessarily translates to a viable concept.
Hear me out here. It's not that I don't believe that our fallen brethren shouldn't be acknowledged, particularly at this time of year when it is only natural to become reflective. (Hell, even people who hate Christmas are prone to such contemplations. That's probably one reason why they hate the season.)
I do. I really do.
But when you see police union stickers doing double-duty as "Break Window Here" decals and non-cops getting physically assaulted for wearing cop-related attire, you have to wonder if a Project Blue Light display of respect couldn't come back to bite us and our loved ones.
There are people out there who might take our expressions of remembrance and solidarity as a challenge to their own sense of allegiance. For while we live in the land of good and plenty and love baseball, hotdogs, and apple pie, we have among us lower life forms who would love nothing more than to wreak havok. I'm speaking of those less-sentient creatures who seek to earn their stripes by killing cops and who see the random brutalization of our nation's elderly as an agreeable way of passing the time.
Given such realities, is it far-fetched to envision some scumbag doing something cowardly in response to Project Blue Light? Might the memorial blue lights in someone's window serve as a beacon, attracting problems as a lighthouse does a ship to shore? Could our loved ones pay a price for their devotion to fallen officers?
I mention this now as Project Blue Light has great emotional appeal to me-so much so that it almost overrides my own visceral concerns about it. Even if it never becomes as nationally recognized a symbol as those little pink breast cancer ribbons, I wouldn't be surprised if Project Blue Light did become much more popular with the public.
But remember: What might play in Peoria, Ill., may not fare so well in South Central Los Angeles.
Maybe I am I off-base here and being overly paranoid. But I wonder if there isn't some better way of supporting law enforcement's fallen without marking a house and the people in it as police supporters and needlessly jeopardizing our loved ones.
What do you think?