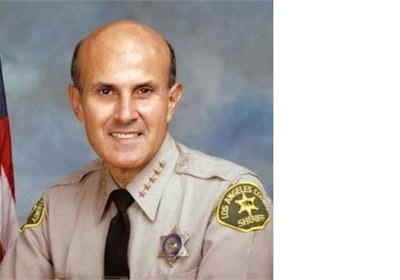 Typing in "Leroy B-," this afternoon, the first entry that pops up on my Google query is the old Jim Croce song "Bad, Bad Leroy Brown." But it's "Bad, Bad Leroy Baca" that I am searching for, and so when my fingers tap the last key I am rewarded with top searches associated with the man: "Leroy Baca, Sheriff," "Leroy Baca, Salary," and "Leroy Baca, Domestic Violence."
Over on the news query portion of the site there quite a bit going on about Leroy David "Lee" Baca, too. For as 2014 begins, so ends the reign of one of Los Angeles County's longest-serving sheriffs, a tenure that left people like me with a profound sense of vertigo, what with our pendulating appraisals of the man.
Early on, I absolutely dreaded the prospect of his taking office. Like other Temple Station deputies, I was familiar with an episode wherein Baca had supposedly required assistance with a locked car while in the presence of someone other than his wife. This had ultimately been communicated far and wide via an MDT message but not without some cost to the deputy who'd foolishly sent it. And so with that another had been sent, one evocative of another Jim Croce song, "You Don't Mess Around With Jim."
If the vindictiveness of that particular episode left a bad taste in my mouth, Baca's defensive blustering in interviews during his inaugural campaign for sheriff did not improve my impression of the man or his stability (later incidents, including his challenging a couple of radio personalities to a fight, served to give further pause).
All the same, it was evident that the politically savvy Baca who'd spent years networking and held a cache of financial and voter support, was going to be the next sheriff in 1998 (Only a bifurcated Hispanic vote in June deferred his honeymoon to a November run-off. He never looked back).
It wasn't too long after he assumed the helm that I had my first personal contact with the man as he draped the department's medal of valor around my neck, an overture that couldn't help but momentarily thaw some of the frostiness I'd acquired for him.
But such niceties don't trump other concerns, and rumors and innuendos about illicit associations and the vices associated with his cronies made myself and others ask a very legitimate question: Just what kind of man was running the department?
Sadly, whatever occasional grain of hope came about also proved a source of derision among his troops. For example, Baca's penchant for studying, seeking answers, and lobbying for constructive change—admirable qualities in my book—found him saddled with the sobriquet "Sheriff Moonbeam" and other less publishable nicknames. Still, some of the people I saw him promoting I respected greatly and his ability to marry their talents to new positions was enviable (Baca would have been hard-pressed to have found a better man to helm the department's headquarters than Mike Parker).
Baca's personal history evoked compassion from me, even empathy (growing up, his living quarters had been shared with a mentally-ill family member) and I respected that he'd worked as hard as he had to achieve as much as he had. That he was in some ways a beneficiary of ethnic name recognition did not diminish my take on him when it came to the man's efforts to make something of himself. Clearly, he was a man with a mission.
But whatever Baca's priorities, I had reason to question that the welfare of his personnel and countrymen were high among them. His tax dollar-funded support of a department Muslim Community Affairs Unit was less concerning to my mind than his open advocacy of other questionable Muslim entities such as CAIR. Also his mea culpa parading of contrite Century deputies in the aftermath of a shooting proved more embarrassing than mollifying, and his constraining policies governing foot- and vehicle-pursuit policies abdicated safety concerns for both the officers and community they were to ostensibly serve.
Then there were matters of those who were hired on his watch and a number of less favorable promotions (as well as the processes by which they were promoted). The according of privileges to friends of the sheriff outside the department was as rampant as regional favoritism within it, the legacies of both dovetailing into many a collateral concern, including indictments that have already been handed down as well as others that may follow (and that have factored in his announced retirement). While the temptation to invoke Malcolm X is strong - "The chickens have come home to roost" - it is more natural to gape at the damn number of foxes occupying that coop. And for that the gatekeeper is inevitably held accountable.
Whatever compassion I might feel for the man is tempered by a need to objectify his legacy, to review the balance sheets and see just how things add up.
The degree to which that tally shows a deficit will depend upon who's doing all the adding (the capacity to explore new approaches to community policing and enhancement of the profession's technology) and subtracting (alleged custodial brutalities that have cost tax payers millions, a fostering of department cliques, and his own questionable assertions as to what he did know or should have known). Many of these problems are interrelated, not without precedent, and certainly not unique to LASD. It's just the sheriff's department's turn in the spotlight. (Not to worry, LAPD, the light will swing back to you soon enough. I promise)
It is fair to say that, like his predecessor, Baca overstayed his welcome; as such, he has proven to be just one more unnecessary reminder of what happens when those who seize the reins of power attempt to retain them with a death-grip thereafter. How much better might it be to leave a more favorable, if shorter, legacy, than it is to leave behind a long and sad one?
In that same spirit of giving credit where it's due, it should be noted that he handled himself well at the podium in announcing his sudden, if belated, retirement.
That he didn't come across as defensive was no small accomplishment given his circumstances, and I couldn't help but wonder if he'd come across as even-tempered early on, that maybe his inner circle would have been populated with men and women greater capable of acting in the best interests of the community, the department, and him.
Good luck to his successor. He or she is gonna need it.
Related Stories:
Video: L.A. County Sheriff Lee Baca to Retire at End of Month
LASD Ends Special 'Friends' Hiring Program
L.A. Sheriff's Staff Raised Red Flags About Jail Brutality 2 Years Ago