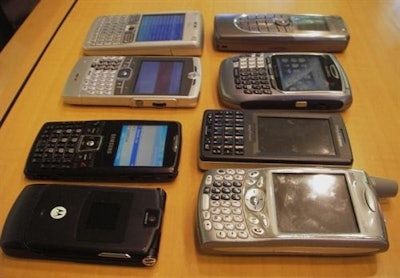 On June 25, the Supreme Court issued a combined opinion in two cases, Riley v. California and U.S. v. Wurie, on searches of cell phones incident to arrest.
The court ruled that the well-established exception permitting some searches incident to arrest does not apply to data searches of the arrestee's cell phone.
The court's reasoning, which had already been adopted in some jurisdictions and rejected in others, was that the immense quantity of personal information stored on the typical cell phone (such as text messages, medical records, personal appointments, and even locations and tracking of movements) placed searches of these digital devices in a Fourth Amendment class by themselves, requiring greater privacy protection than other items carried on the person. Because examination of stored data on cell phones amounts to a massive intrusion on personal privacy, the court said that "officers must generally secure a warrant before conducting such a search."
The unanimous opinion does allow safety searches of the phone for hidden weapons (but not the contents), and recognizes that other standard exceptions could justify a warrantless search (such as consent, probation/parole terms, or exigencies requiring immediate access, such as bomb threats or rescue of kidnap victims). Unless some other established exception applies, however, law enforcement officers must obtain a search warrant to inspect the stored data on an arrestee's cell phone. (Although this decision addresses only cell phone searches, it is likely the rationale will also prohibit searches incident to arrest of any digital data storage device, such as laptops, tablets, iPods, etc.)
Responding to the argument that phones can be remotely wiped or encrypted before a warrant could be obtained, the court suggested that batteries could be removed, or the phone could be put into an aluminum foil "Faraday bag," which many agencies already use to block radio waves.
Under existing Supreme Court authority in Davis v. U.S., any evidence discovered through a cell phone search that predates the Riley-Wurie decision and that was made in good-faith reliance on previous law permitting such searches is not to be suppressed.
The combined Riley-Wurie ruling will be addressed in greater detail in a future "Point of Law" article in POLICE Magazine.