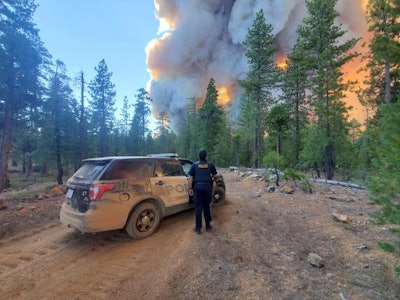 Just moments before sunrise on the morning of Nov. 8, 2018, a fire was reported close to Camp Creek Road in the lower western ridges of the Sierra Nevada foothills in Butte County, CA.
Initial calls to 911 indicated a fairly typical fire event, but a vicious wind whipped through the steep canyon escarpments, and pushed the fire in an urgent, unstoppable advance—later analysis showed that at times, the fire was expanding roughly one football field per second.
The fire moved quickly westward from Pulga to Concow to Magalia, and less than two hours after the blaze was first reported, flames began to ignite in the town of Paradise. Residents subsequently described the sky that morning choked with smoke as black as night and hot ash falling like a downpour of hellish rain.
Paradise—then a community of roughly 26,000 people—is relatively secluded in the low-lying mountains, with just three main roads offering access and egress. Those roads down the hillsides were hurriedly congested with stopped and/or slow-moving vehicles.
The fire burned for more than two weeks, and in the end, the 2018 Camp Fire became the costliest wildfire in California history with a total of 85 civilian deaths and an estimated $16.5 billion in damage. Most of the human death toll and destruction to property occurred in the first few hours on that first terrible day.
The public safety response to the rapidly unfolding disaster was—in totality—valiant and brave and seemingly superhuman, even if at times wholly improvised. Officers from municipal, county, and state police agencies raced into the onslaught of ferocious flames as their fire-services brothers and sisters brought to bear everything they had to battle the blaze.
Here is but a tiny glimpse into the story of their heroism amid that horror.
A "Y'all Come" Situation
At the time the first calls came in reporting fire, only Officer Perry Walters and his patrol sergeant were on duty in the Town of Paradise—and Walters was stuck at the station processing a subject in custody.
"As soon as I was done with my-custody, there was a report of a spot fire on the East Ridge, and then that's kind of when it all started for me," Walters recalls. "I basically drove towards the orange sky which was pretty much indescribable. You got blue skies behind you and you've got this dark orange sky in front of you."
Walters quickly arrived at a trailer park at the eastern edge of town and although he could see no flame in his immediate vicinity, he knew inherently there was danger close.
"There was a spot fire reported at the back of the trailer park. I remember clearing that and then getting the second report of a spot fire. I remember seeing a rat-length gray piece of ash that had fallen on my front windshield."
Walters reported to dispatch the falling ash and then proceeded further east down the serpentine canyon road toward the scene of another reported spot fire.
"I remember making the S-turn and …seeing a spot fire the size of a fire engine right in front of me," Walters says. "I could see through the trees that it was fire all the way across the canyon. I knew how far and how fast that fire had traveled at that point. That's when I initiated the immediate evacuation of [that area]."
Walters knew he didn't have time to knock on doors, so he activated his lights and got on his PA, telling people as he drove through the neighborhoods to check on neighbors and then leave immediately.
"It was just minutes after that, I heard dispatch over the radio say CAL FIRE was ordering an immediate evacuation of the entire town of Paradise," Walters says. "When that came through over the radio, I knew the significance—somebody had a bigger picture than I did."
At approximately that same time, Butte County Sheriff Kory Honea was beginning his day at home in the City of Chico, located down in the expansive agricultural valley west of the ridge. On his calendar that day was a mid-morning meeting with the Interim Chief of Police in the City of Gridley, and then an early afternoon meeting with the FBI to discuss open cases.
Those plans had to be immediately scuttled.
"It was a really surreal experience," Honea says. "When I left my house to head up there, at that point there's the realization, 'This thing is bad, this is really bad.' I leave my house in Chico and I walk outside and it seems a little bit overcast. As it turns out, that was from the smoke."
Honea took the main road connecting Paradise with the valley below—the Skyway—which Chico PD had already blocked off to traffic in that direction.
"Recognizing that we needed to increase capacity—we needed to increase the flow—I asked about why contraflow hadn't been started to send people the opposite way down the Skyway. The answer I got was that a request had been made to the California Highway Patrol to get that started. I became concerned that it was going to take too long, so I [told dispatch] to notify Chico PD at the bottom of the hill that I was going to be starting contraflow and sending people down the 'wrong way' on the Skyway."
Honea's decision in that moment undoubtedly saved countless lives, as vehicles headed down that main road doubled from two lanes to four in a matter of moments.
While Officer Walters and Sheriff Honea were either already on or just reporting for duty, Paradise resident Mike Waters—who serves as Fire Prevention Bureau Chief for CAL FIRE—was at home when the fire broke out. He wasn't scheduled to work that day.
The scanner Waters had in his home for situational awareness informed him how fast the fire was developing, and he quickly reported himself ready for duty to help out any way he could.
"I was actually off that morning," Waters says. "I had just promoted a few months earlier to the Santa Clara Unit. We can't just come on duty and start doing things—independent action—so I had to wait, get my supervisor's approval, and make the notifications."
Waters used that time to do what he could to protect his own home—which was ultimately destroyed despite his effort—and when approval arrived for him to deploy, he started assisting with evacuations.
"There were so many 911 calls for trapped persons or welfare checks that pretty much any available unit was trying to—in their little area—respond to whatever radio dispatches were happening," Waters says.
Sergeant Joshua Allen of the California Highway Patrol was assigned to the Santa Cruz CHP Area—off duty and at home—when he got activated in the early afternoon to deploy in his role as law enforcement liaison to CAL FIRE Incident Management Team Four.
"I gathered all of my gear and headed up north after picking up a patrol vehicle at the Santa Cruz Area office," Allen says. "I got there in the evening of that first day with a lot of evacuations and road closures still being implemented."
Allen says that upon his arrival at the Incident Command Post (ICP), he worked with his CAL FIRE counterparts—as well as people from BCSO and Paradise PD—to set up and implement new evacuation zones as the fire continued to grow.
"I'm a member of the California Highway Patrol," Allen says, "but when I'm assigned to the team and we're out on deployment, I essentially work for CAL FIRE. I help bridge the gap between [CAL FIRE and] all the local law enforcement agencies."
As the day progressed, more people began to report to the ICP, and the response became more organized and coordinated.
"We started to figure out 'who was who in the zoo' so to speak. We got all the right people in the right room—that's kind of what the incident management team does—and we were able to make decisions much easier as we built that team out."
An Unprecedented Event
The Camp Fire was eventually considered to be "contained" a full three weeks after it had started, and in its aftermath began the largest search-and-rescue operation ever conducted in the state of California. A total of nearly 10,000 homes were completely destroyed. When PPD, BSCO, and the Highway Patrol eventually did allow people back into the area to search for any surviving valuables and family mementos, thousands of people were still listed as missing.
In the aftermath, every first responder involved had memories from which they would have 20/20 hindsight and clarity of understanding that was impossible at the time of the incident.
Chief Waters says that public safety leaders in areas potentially affected by any sort of large scale disaster—flooding, wildfire, earthquakes, volcanoes, and everything else—carefully map out evacuation zones.
"In the county, the sheriff has jurisdiction for evacuations—so they're the driving force—and obviously fire plays a big role during a fire," Waters says.
He adds that the stakeholders should work together determine what areas specified as unique zones.
"You're not just doing big squares on a map—you're actually basing it off of the communities as well as the topography, the fire risk, all that kind of thing, to make it more realistic so that you're not evacuating three different communities for a fire in one area. Because the more you evacuate a group of and a fire doesn't threaten them, they become desensitized to that action. Try to tailor it as much as [you] can.
CHP's Allen agrees, and adds further that the plan should be trained by everyone who is likely to be a participant in the event of an actual disaster.
"My number one recommendation is to build out your evacuation zone," Sergeant Allen says. "Have a plan and train on that plan."
In a similar line of thought, Honea suggests that even when an incident initially appears relatively small, it's essential to begin thinking about the response from the perspective of an ICS structure.
"It's important to get into unified command with all of your public safety entities very early on," Honea says, "and then begin to manage that incident through that unified command almost immediately. Start managing through unified command] at the lowest possible level."
Officer Walters offers his own counsel to—and from—the "boots on the ground" during such events.
"Keep your head cool," Walters says. "We get paid to win. We get paid to survive, to help our community. Just keep it together and keep it cool and think rationally."
A Fire in the Belly
In the end, successful police response to wildfire—and any other natural disaster, really—is found at the nexus where prior planning, preparation, and training meets with the skillfulness, courageousness, and boldness of action by those who don the uniform and race toward the danger.
It is an inextinguishable fire in the belly of the men and women in public safety generally and law enforcement specifically that ultimately prevails.